JUNE RELEASES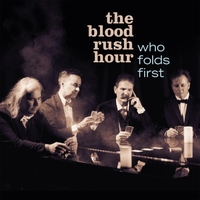 THE BLOOD RUSH HOUR: Who Folds First (Nicola)
The Blood Rush Hour is a cornucopia of styles, beats and ideas melded into a seamless whole, operatic in scope, but rooted in the mad pop science of XTC, David Myhr, Marco Joaquim, The Foreign Films, The Pillbugs, or the Dowling Poole. Pop music is all about dynamics, and the Hour's dynamics out-dynamic every other band. The hooks and changes keep coming at you and coming at you, and like all great pop, they are both surprising and logical. The stomping riff on "Danny" sounds like it migrated from Boston or Kansas, segueing into the sweetness of the Beach Boys.
The Henry Mancini flute-interlude on "The Space That We Have Made" should be at odds with the song's darker tone, but it's not. The poppy intro to "6,4,5 and Sometimes 1" has a touch of Burt Bacharach or Billy Joel, but the radio-friendly song itself is sui generis, like "Come On Eileen," and all of the Hour's work. Ironically, "6,4,5" about every song on the radio sounding the same, of which the Hour will never be accused. If there are any stations left that play progressive rock.
Robert DeStefano's unmistakeable tenor sings most leads, trading off with the equally capable Joseph Tobias and Christian Phillips. DeStefano's "intermission" could have been part of a Dmitri Tiomkin movie score. Elton John or Billy Joel would embrace "I'm the One" as one of their own.
Mad pop science are the songs that break free of conventional structure, such as The Hour's own "6,4,5 and Sometimes 1," the Beach Boys, the Beatles, and a handful of other pop pioneers who shun conventional structure. Who Folds First is one of those records of which you will never tire.
Sublime.
Five stars.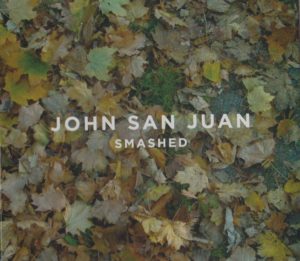 JOHN SAN JUAN: Smashed (Remo)
San Juan's diaphanous and melodically daring music exudes a cool blue vibe like Mose Allison or Laurie Biagini. It's unique to San Juan and instantly identifiable. With flatted fifths and a bittersweet mix of major and minor, he weaves a seamless spell over fifteen songs. Just as Marshall Crenshaw's debut album was of a piece, so is this. A cool blue piece. Not jazz, but jazzy, and you can hear Mose, or Van Morrison, or Sarah Vaughan singing these songs. It's power pop of the best sort—unexpected and exciting. Songs are short save for the epic six minute "Move It," sometimes employing flute, like the danceable "Why Aren't You Dancing." Imagine the lounge insouciance of Dan Hicks but with greater discipline and more serious intent.
Four and a half stars.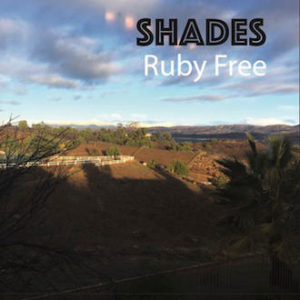 RUBY FREE: Shades
Rick Hromodka's latest combines elements of canyon rock with a sunny, wide-open disposition reminiscent of the Cowsills and the Continental Drifters. "Take A Ride" is a road trip soundtrack with that characteristic A/B harmony popularized by the dBs. Guitarist Joe Giddings comes in like a dentist's drill on "Owe to the Man." Only not painful. Giddings' clear ringing tone is the expert pinstriping on the body of the song.
"Lonelier Than Me" is something Neil Young might sing. Giddings answers the call on "Talk To Me," closing the confessional with a talking solo. "Start Of Something Big" is a hook explosion a la the Knickerbockers or Artful Dodger, with a stadium-ready bridge that earns fist pumps. "Time Without Numbers" echoes the first song, closing with that exquisite A/B harmony.
CORIN ASHLEY: Broken Biscuits (Murray Hill)
Four years ago Corin Ashley's New Lion Terraces was our record of the year. Then he had a stroke. Now he's back. Broken Biscuits is more mad pop science, which is music that does not adhere to the formula which Blood Rush Hour calls "6,4,5 and Sometimes 1." Ashley takes chances, uses strange chords, and creates orchestral pop along the lines of XTC, The Dowling Poole, and Jellyfish. "Little Crumbles" starts like a Ringo composition, familiar and somewhat stupid until it gets to the bridge, which takes off into the stratosphere. The spiky harmony of "Wind Up Boy" has a Merrymakers/Jellyfish vibe balancing the sweetness of the strings. "Edison's Medicine" has that vodee-o-vodee Rudy Vallee feel with the megaphone, but twists abruptly into flight on a characteristically stunning Ashley bridge. "In Appropriate Fashion" starts out like an ABC jam, but it too explodes into a gorgeous hook.
Not as solid as Terraces, but head and shoulders above most pop.
Four stars.
++++++++++++++++++++++++++++++++++++++++++++++
Mike Baron is the creator of comic books Badger and (along with Steve Rude)  Nexus.  His latest book is "A Brief History of Jazz Rock" – more on Amazon CLICK HERE.
He has written five novels in the last few years, all available on Amazon here:
http://www.amazon.com/s/ref=nb_sb_noss_1/184-5348781-8830168?url=search-alias%3Dstripbooks&field-keywords=Mike%20Baron.  Visit his website here:  http://bloodyredbaron.net and on Wikipedia here:  http://en.wikipedia.org/wiki/Mike_Baron