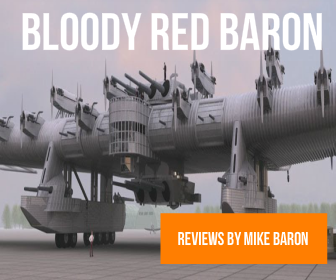 ===================================================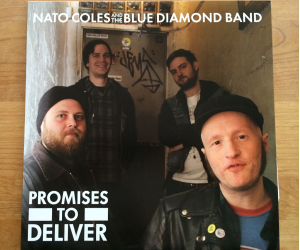 NATO COLES and the BLUE DIAMOND BAND: Promises to Deliver (Rum Bar)
Hortatory, fist-pumping rock and roll in the vein of early Springsteen, D.L. Byron, and stable mate Kurt Baker. "See Some Lights" bursts from the speakers like a Triple Crown winner. "I'm ready to fire up the engines of the night–" Something the Boss might write, but if anything, Coles is more exuberant and passionate. From its sustained note intro, "Julie" is an instant classic and new age anthem. "You Can Count On Me" and "Late Night Heroes" continue in the Boss vein, only better. And finally, a song about the beloved "Econoline" with a crazy bridge.
Four and a half stars.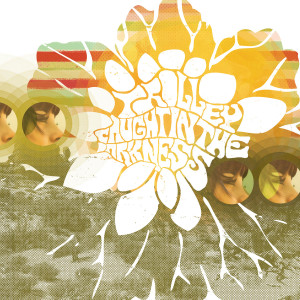 TROLLEY: Caught in the Darkness (Easter)
This Milwaukee quartet continues to amaze with their Zombies/Badfinger/Pillbugs brand of psychedelia, with song after song rolling into your ears like perfect waves off Hawaii. "Crying All the Time" and "She Has It All" have Mike Tyson's hooks, while Mike Perotto's keyboards evoke every cheesy Farfisa you've ever heard. Paul Wall sings "All the Way" in an oddly fitting fey voice. Sometimes the boys sound like they're unconsciously channeling Brit speak, but with music of this quality, they can be forgiven. "I'll Stand In Line" sounds like "Calico Cat" off their first album.
Four and a half stars.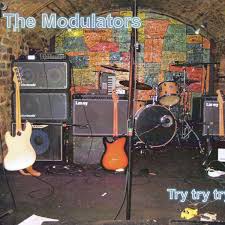 THE MODULATORS: Try Try Try (Kool Kat)
A couple years ago the Modulators stunned with the release of Tomorrow's Coming, with sweet chords, harmonies and kill-worthy hooks. Try Try Try is a worth follow-up. You can almost hear the fingers on the strings as this garage-rock paradigm mixes acoustic with electric, strummin', hummin', and thrummin', plus a soupcon of Marshall Crenshaw. The title track builds a bewitching arabesque around "Peggy Sue's" chords while "Someday" evokes the Midwest warmth of The Hawks. However, I think their previous record, Tomorrow'sComing, is better.
Four stars.
www.KoolKatMusik.com   & www.themodulators.com
++++++++++++++++++++++++++++++++++++++++++++++
Mike Baron is the creator of comic books Badger and (along with Steve Rude)  Nexus.  His latest book is "A Brief History of Jazz Rock" – more on Amazon CLICK HERE.
He has written five novels in the last few years, all available on Amazon here:
http://www.amazon.com/s/ref=nb_sb_noss_1/184-5348781-8830168?url=search-alias%3Dstripbooks&field-keywords=Mike%20Baron.  Visit his website here:  http://bloodyredbaron.net and on Wikipedia here:  http://en.wikipedia.org/wiki/Mike_Baron