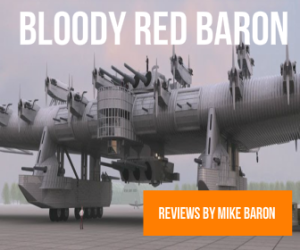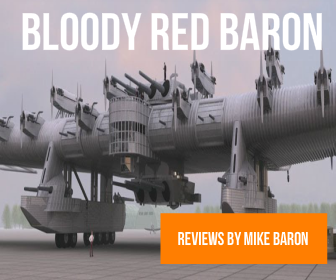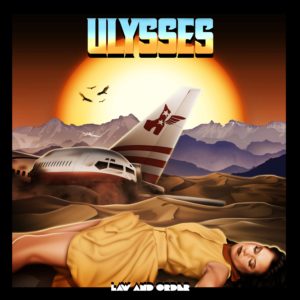 ULYSSES: Law and Order (Black Glove)
Like a bunch of ADD special ed kids on a sugar high, Ulysses can't stop from switching it up in the middle to FASTER, HARDER, STRONGER! The title track is a sinister ear worm in a Kinks mode with a police siren. I wish they wouldn't do that. I listen while driving. "Smiling" starts with an aw-shucks jug band vibe reminiscent of Mungo Jerry, breaks into a Liza Minnelli chorus and a big Queen-like finish. "Lady" is a blue smear of Allmon Bro guitars and Luke Smith's characteristic melodic sneer.
"Crazy Horses Rise the Snake" is inscrutably Beatlesque with ferocious guitars racing side by side like two greyhounds after a rabbit. "Mary Jane" has an abrupt mid-song shift into overdrive, the type of thing that gets you speeding tickets. "Song That Has To Be Sung" is a folkish riddle wrapped inside an enigma with lyrics of which Dylan would be proud. "Typical Scorpio" has a Mike Tyson power pop hook. Ulysses has always had one foot in the Hollies pond. "Come On This City's Gone" is a Who/Queen-level anthem, with that same melodic sneer, by which ye shall know them. They jump it up a note for the outro, which is when you get the second speeding ticket.
At a time when many bands sound alike or burrow into navel-gazing avenues, Ulysses is producing effortless incandescent rock and roll.
Five stars.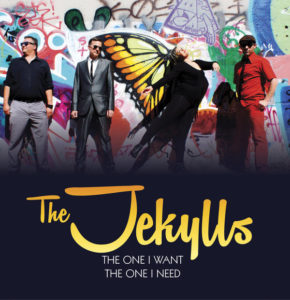 THE JEKYLLS: The One I Want The One I Need
The Jekylls demonstrate good riffsmanship, but they miss the big hooks. The instrumentalists and singer Eryn DeSomer have chops up the yib-yob, but the parts are greater than the sum. "Give You Love" has a hook, but for the most part these strong riffs cry out for dramatic chord changes. Eryn summons the spirit of Patsy Cline on the country tearjerker, "Can't set You Free," and the album warms up a little toward the end with "No Good Reason."
Three stars.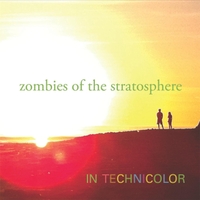 ZOMBIES OF THE STRATOSPHERE: In Technicolor
These Brit-loving New Yorkers return with another strong album heavily influenced by their namesakes, Badfinger, the Kinks, and all things power pop, mixing trenchant observation "Emily Lies" with strong melodies. "She's So Cool" sounds a little like the Classics IV's "Spooky," while "Slow Down" borrows the opening riffs from Simon and Garfunkle's "59thStreet Bridge Song." "In Technicolor" is a lyrical child of both the Zombies and Tears For Fears, while "Company Man" is a perfect extrapolation of the Kinks. The chiming "Summer Dresses" is very pretty, while "Mr. Fairfax" suggests their brothers from another mother, Ulysses.
Four stars.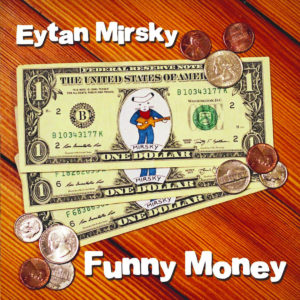 EYTAN MIRSKY: Funny Money
A collection of smart, easy rocking songs about everyday life that would do Billy Joel or Randy Newman proud, beginning with the irresistible "I'm Gonna Fight It." The wry and rueful "Somebody Played a Joke On Me," with its honking baritone sax, is a generational theme song, as is "My Dog Likes Your Dog," with its mariachi trappings including violin and accordion. "You Got It Made" makes jealousy elegant, while "It's a Jungle Out There," with its "Big Man" sax, is a spot-on cautionary tale. "You Gave Me Sugar" has a hint of Motown in the bridge, and you can see the Temptations doing it. Finally, "Good Hair Day" turns a trope on its ear. This is Ed James quality stuff.
Four stars.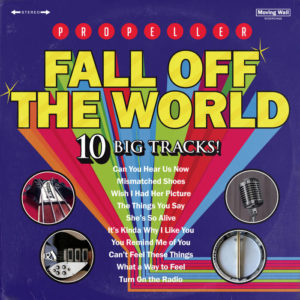 PROPELLER: Fall Off the World (Moving Wall)
Heavy, propulsive, churning wall of guitars with shades of Superdrag, Silver Suns and Teenage Fanclub, filled with compelling hooks and sweet harmonies. The riff happy "The Things You Say" leads into "She's So Alive," with an ineluctable hook and a high-singing bass like a sounding whale. "It's Kinda Why I Like You" is Silver Sunnish. "You Remind Me Of You" has Who-ish tendencies, while "What A Way To Feel" grabs you when lead singer Greg Randall grabs you by the collar when he suddenly jumps an octave.
Four and a half stars.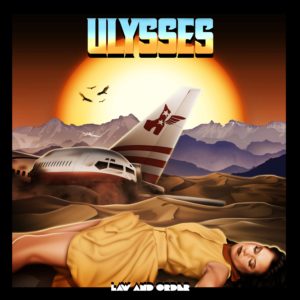 ++++++++++++++++++++++++++++++++++++++++++++++
Mike Baron is the creator of comic books Badger and (along with Steve Rude)  Nexus.  His latest book is "A Brief History of Jazz Rock" – more on Amazon CLICK HERE.
He has written five novels in the last few years, all available on Amazon here:
http://www.amazon.com/s/ref=nb_sb_noss_1/184-5348781-8830168?url=search-alias%3Dstripbooks&field-keywords=Mike%20Baron.  Visit his website here:  http://bloodyredbaron.net and on Wikipedia here:  http://en.wikipedia.org/wiki/Mike_Baron