BLOODY RED BARON
OCTOBER REVIEWS
by Mike Baron
[linebreak style="simple"]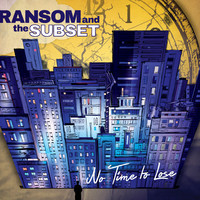 RANSOM AND THE SUBSET: No Time to Lose (Tune Stack)
A late summer breath of fresh air, this trio led by singer/songwriter RanDair Porter channels classic power pop in the Fountains of Wayne, Churchills, Goldbergs mode. RanDair sings in an endearing, slightly lugubrious joker's tenor beginning with the Jellyfish-like "Anna..'  "When Will I See You" is typical of their sound, enticing, bouncy, killer hook, highly reminiscent of Fountains. "Leaviong With You" is pulsing rock with an irresistible A/B harmony on the bridge while "Million Out Of Me" is an ode to get-rich-quick schemes with a touch of Badfinger and Vegas With Randolph.
"No Time To Lose" is a heartbreaking McCartney-esque ballad about a woman desperate for love. "She needs a husband, she needs a man, someone to love her, he'll understand." "Questions" is a cry of existential angst perfectly suited to RanDair's sardonic voice. "Baby Cry" is an unberably sad song about a dog. Ransom delivers terrific dynamics, hooks, harmonies, and deep emotion.
Four and a half stars.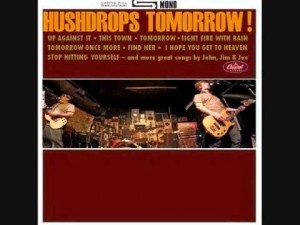 HUSHDROPS: Tomorrow
This power-pop trio has the kind of quirky melodic sense found in The Posies, The Quarter After, and the Hang-Ups but always sound like themselves, due in part to the kind of A/B harmonies championed by the dB's. Well that's a lot of reference but it's all good, starting with the Kon-Tiki-ish title track. These guys have a huge sound and it's sometimes difficult to believe it's only a trio. "This Town's" guitar winds out like Jorma Kaukonen or Clapton with fuzztone so thick you could wear as a robe. "Up Against It" is slippery and delirious. "Take A Little Pain" sounds like something Burt Bacharach might have written, while "Find Her" is a subline Duncan Maitland-ish stunner. "Take Your Places" pings, zips, whines and shoots off sparks. "You Never Put Me Out" is a cousin to anything off Pet Sounds with a guitar solo that slots into place like the last piece of a jigsaw puzzle.
Four and a half stars.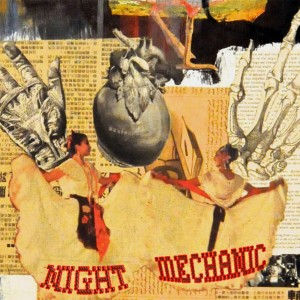 NIGHT MECHANIC: Day Surgery
This obstreperous Portland quartet churns through nine hortatory fuzztone thrash bombs suggesting a marching band for Dr. Xavier's Academy For Gifted Youngsters with their fierce dynamics and double guitar momentum. Songs like "Payload" and "Forceps" are chants with chord changes. The band's off-kilter chord changes recall a more elemental, adamant Bookends (the Finnish Band.) "Fairgrounds" is the most Bookendish but they hit those sweet minor chord changes all over the place. The vocals could have been better recorded.
Three and a half stars.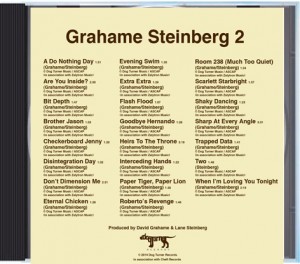 GRAHAME STEINBERG –  2
This shambling inter-continental charmer gives new meaning to the recording term, ADD which stands for both analog recording, digital mixing and attention deficit disorder. Twenty-three songs, most clocking in at less than two minutes offer a splendid sampler but not a hearty meal. Lane Steinberg of The Wind and Tan Sleeve, collaborates with David Grahame for the second time.
Many of these fragments are teeming with ideas that beg for exploration as they fly by your ears like snatches of conversation heard from a fast-moving bus. Grahame's simple compositions and use of keyboards, bass and drums are models of concision. Most of these frags have hooks which is more than you can say for most modern bands. Songs like "Checkerboard Jenny" and "Disintegration Day" cry out for full treatments. Steinberg's warm tenor remains a constant whether shuckin' like Frank Zappa on "Extra Extra" or adding effortless scat. "Roberto's Revenge" has an Eagle's vibe. Astonishing mastery and invention but I'd like to hear most of these fragments expanded.
Four stars.
[linebreak style="25.png"]
Mike Baron is the creator of comic books Badger and (along with Steve Rude)  Nexus.  His latest book is "A Brief History of Jazz Rock" – more on Amazon CLICK HERE.
He has written five novels in the last few years, all available on Amazon here:
http://www.amazon.com/s/ref=nb_sb_noss_1/184-5348781-8830168?url=search-alias%3Dstripbooks&field-keywords=Mike%20Baron.  Visit his website here:  http://bloodyredbaron.net and on Wikipedia here:  http://en.wikipedia.org/wiki/Mike_Baron