OCTOBER REVIEWS
by Mike Baron
TRIP WIRE: Cold Gas Giants (Kool Kat)
Trip Wire is Marty Schneier, Bill Hunt, and Jeff Shelton, all veterans of numerous power pop bands. Together they thrum like a Yamaha, making urgent, propulsive pop in the vein of 20/20 or the Plimsouls, both of whom might have recorded "I'm Not The Enemy." "This Time It Isn't" has a Radio Days vibe, which is to say a river of every classic power pop band that ever was. Tight harmonizing in "Winter Song," which features a string quartet, puts them on the same bill as The Legal Matters at my dream festival. Driving rhythms and muscular guitar solos belie the title of "Growing Old." The album ends with the Byrdsian jangle of "The Same Reaction."
Here's hoping Kool Kat gets them wide distribution.
Four and a half stars.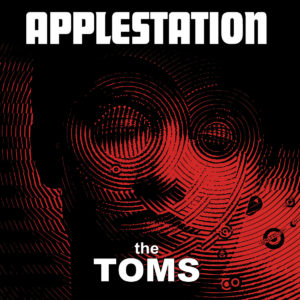 THE TOMS: Applestation
Tommy Marolda, the studio master one-man-band who recorded his first Toms record in 1979, astonishes with this collection of mad pop science in the tradition of XTC, the Dowling Poole, and Jellyfish. This is nothing like his original Toms records, which were notable for their power pop mastery and ineluctable rhythms, difficult to achieve when you're working alone.
Marolda has done it again only this time, the music is sui generis, a startling display of different textures and rhythms, tied together by Angela Zhang's sinuous cello. "Hello To Life" is a psychedelic wave out of Pillbugs and Hendrix, Marolda's guitar sounding like a sitar. The Beatles/XTC influence is strong on "Campus In The Month of May," Zhang's cello essential, likewise "Cate Received a Trophy Today." "Skeleton," with its stop and go rhythms, grabs you by the throat and cuts it open with the hook. "Love Your Pharmacy," is elegant musical sarcasm, lyrics consisting of every stupid over the counter drug extant. His singing voice is as strong as ever, sounding even younger, if that's possible.
You will not be able to get "Elusive Butterfly" out of your mind.
Five stars.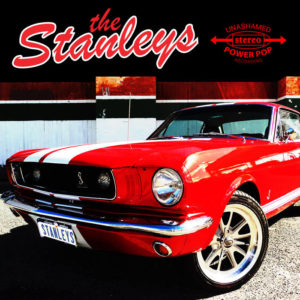 THE STANLEYS (Pop Detective)
The Perth-based Stanleys' first full-length CD's cover photo of a red Shelby Mustang is an excellent visual representation of their driving, churning power pop, with urgent guitar stroking the pituitary gland, drawing on tributaries from The Box Tops to Cheap Trick to Supergrass. "Amy" bursts from the speakers with a hint of Midwest power poppers the Hawks, and Plimsouls urgency. "What Are You Gonna Do" is more Badfinger than Badfinger, while "Always," with its unforgettable riff, has Paul Revere DNA. "Say You Will" is a fist-pumping anthem with more than a hint of Monkees and Hollies, while "Hefner" recallsw Radio Days. Which is not to say Stanleys sound like these other bands, but rather that they brilliantly incorporate power pop tropes into a cohesive sound. Producers Ken Stringfellow and Michael Carpenter may have had a hand.
Four and a half stars.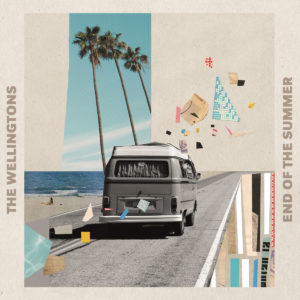 THE WELLINGTONS: End of the Summer (Off the Hip)
The Melbourne-based Wellingtons have been producing warm, Hollies-influence power pop for years, and have hit a new high with the elegiac End Of The Summer, built around Zac Anthony's butterscotch voice. And when Zac duets with Kate Goldby, the result is an instantly identifiable harmony like those of The Kennedys, or any of Steve Earle's duets with Miranda Lambert or Allison Moorer. You may hear echoes of Fountains of Wayne in "Over & Done With," but the Wellington's sound is unique due to those two voices. "Please Be Nice" sounds like the Shangri-Las meet Brian Wilson's Spring. The title track is a bittersweet acoustic with that exquisite harmony and a touch of the We Five's "You Were On My Mind." Cheesy roller rink keyboards run through the whole thing like a toy railroad.
Four and a half stars.
++++++++++++++++++++++++++++++++++++++++++++++
Mike Baron is the creator of comic books Badger and (along with Steve Rude)  Nexus.  His latest book is "A Brief History of Jazz Rock" – more on Amazon CLICK HERE.
Baron has a huge new project coming out in 2018 and just hit its Kickstarter goal.  It's called Q-Ball and it's an espionage/martial arts thriller with explosive fight scenes, written by Mike Baron and drawn by Barry McClain.  CLICK HERE to check it out.
He has written five novels in the last few years, all available on Amazon here:
http://www.amazon.com/s/ref=nb_sb_noss_1/184-5348781-8830168?url=search-alias%3Dstripbooks&field-keywords=Mike%20Baron.  Visit his website here:  http://bloodyredbaron.net and on Wikipedia here:  http://en.wikipedia.org/wiki/Mike_Baron