SUMMER RELEASES
by Mike Baron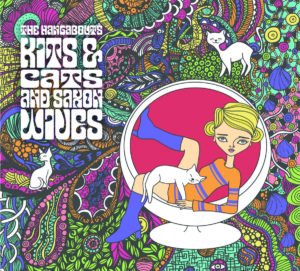 THE HANGABOUTS: Kits & Cats and Saxon Wives (Futureman)
Three guys from Michigan in a Chad & Jeremy/Peter & Gordon/Brit invasion mood, very solid follow-up to Illustrated Bird. The layered and seductive guitar on the title track is like one of those appetizers that threatens to ruin the meal for you, because you want more of it. There's Pillbugs DNA in "Cricket Time," Kink playfulness in "Evelyn Wood," and "Twelve Songs" is sooo Peter & Gordon, with a more sophisticated engine. The boys hit ethereal harmonies on "Too Hot to Sleep," while "All Day All Night" has more hooks than a Russian fishing trawler.
Four and a half stars.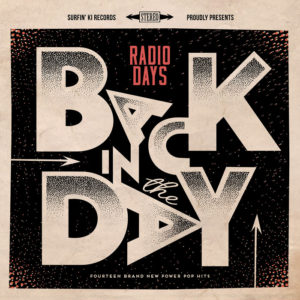 RADIO DAYS: Back In the Day (Indiana)
This Italian power pop trio sounds like the amalgamated soundtracks of Let It Be and That Thing You Do in a blender. This is one of those bands, like Cirrone or The Sick Rose, that grew up listening to American rock and serves it back with Italian flair. You'd never guess these guys were Italian, and so what if they're in love with early period Beatles? The title track has superb dynamics, as do all these songs. "Your Words" has a reggae beat and Crenshaw chords. "I'm In Love With You" is another chiming paean to days gone by.
If you like classic power pop, this one's for you.
Four stars.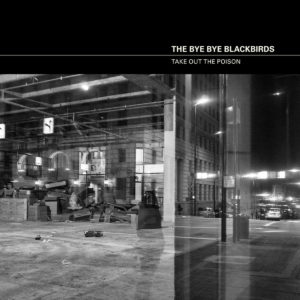 THE BYE BYE BLACKBIRDS: Take Out the Poison
California-based group incorporates canyon and folk rock into a glittering power pop concoction, with chords that smack you between the eyes. Head Blackbird Bradley Skaught has the uncanny ability to hit you with a chord that is both unexpected and perfectly logical, as he does on virtually every song here, starting with "Earl Grey Kisses." "Duet," with Lindsay Paige Garfield, has a Kennedies vibe, and again with vocalist Julie Wakefield on "Your Spell Is Too Late," in which Skaught channels Dylan, but a Dylan who can sing. The bassline on "Baby We're Fine" sounds like singing whales, while "Broken Falls" has a Broken Promise Keeper feel—a shifting, infectious dynamic with great chords, as always.
Four and a half stars.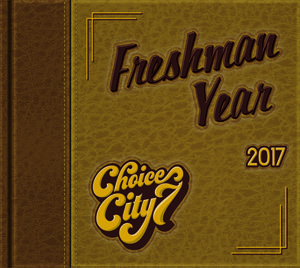 CHOICE CITY 7: Freshman Year
Since the 7 include 3 horns, they had me at "Choice." Muscular honky-tonk rock with a touch of soul. "Falling Down" is the type of song Chicago might have written had Terry Kath not died, or had they not forgotten what made their first two records great. The charts are most Chicago-like, as they are on "Looking Present," but of course Choice City has only one lead vocalist, Christopher Leck. You gotta love a band that leads with trombone, as they do on "Lenny Smalls." "Carry Me Gently" is SO Lighthouse.
Four stars.
++++++++++++++++++++++++++++++++++++++++++++++
Mike Baron is the creator of comic books Badger and (along with Steve Rude)  Nexus.  His latest book is "A Brief History of Jazz Rock" – more on Amazon CLICK HERE.
He has written five novels in the last few years, all available on Amazon here:
http://www.amazon.com/s/ref=nb_sb_noss_1/184-5348781-8830168?url=search-alias%3Dstripbooks&field-keywords=Mike%20Baron.  Visit his website here:  http://bloodyredbaron.net and on Wikipedia here:  http://en.wikipedia.org/wiki/Mike_Baron