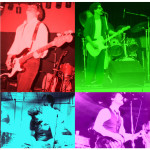 PGH is all about helping artists highlight their most recent projects, so let us all know what your latest project is – and tell us about how it come into the world. What has the initial feedback on it been like?
Steve Rosenbaum (SR): My latest project is my EP, "Making Up A Mess Of Fun", available at all the usual outlets (Amazon, iTunes) and streaming on the usual sites (Spotify, etc.)  The initial feedback has been fantastic!  These songs are near and dear to my heart and really express the power pop sound that's in my head.
The Recording Process:  There are so many interesting ways that music projects come into the world these days compared with what artists had to struggle through years ago.  Take us on the creative arc of how this project came into being and any wisdom that you learned along the way.  Also, what were some of the obstacles or struggles that you encountered when you were working on the project?
SR: Like a lot of artists these days, I record at home in my "home studio", which is really just an office that I share with my wife (and kids when they're doing homework).  I joke that, since I never seem to have more than a single chunk of 5 minutes of "me time", I had to record this EP in 5 minute sessions, which is almost true.  Sometimes weeks went by between recording instruments, but I was determined to finish these songs!  The main drawback is that the wife and kids will hear me in there bellowing away a Capella, since the backing tracks are only in my headphones, which I'm sure sounds pretty strange.
Are there any particular songs on this project that are special to you or communicate a message that you'd like to share here?
SR: I am very fond of the first track, "First In Class", which is the one on the IPO compilation.  Musically, I was doing my best to channel my all-time favorites, the Raspberries, along with a bit of Pete Townshend guitar (is that redundant?), and an exuberant vocal.  Lyrically, it is a love letter to my wife, who really did (in the English-Indian vernacular) "come first in her class" year after year as a schoolgirl.  It is full of playful flirtation toward the smartest, cutest girl in class.
As we all know, the music industry has been devastated for many reasons over the past 10 years, what are your thoughts on these changes and are you finding some of the changes helpful to you with getting more people to hear your music?
SR: Of course it's good and bad.  It seems like the days of putting a record out and making some real money off of the sales are pretty much gone.  But the DIY avenues that have opened up are just awesome for a musician like me, who really never got a chance to dedicate my life to music early on.  The barrier to entry for anyone who has a desire, wherever they are in life, is so low.  By the same token, there is a heck of lot more competition for ears.  I was just so happy to be involved in IPO this year and to be on the compilation, which is clearly giving my music a chance to be heard by so many.
Along the lines of this discussion, it would be really interesting to get your thoughts on what you think the future of 'music enjoyment' will look like in the coming years?  How do you personally enjoy and 'consume' music?  Any trends you've noticed with your own habits compared to, say, 10 years ago?
SR: My listening habits have changed completely!  I was a voracious purchaser of vinyl LPs through the 70s and 80s and then became equally crazy about buying CDs after that.  Now that the streaming model has taken hold, I really love it.  I am happy to pay the subscription to have access to everything.  I am listening to music constantly, while at work, while hanging out at home, and, due to the wonders of mobile data, in my car through my smart phone.  I am thrilled to find new artists through the "if you like this, then you'll like that" intelligence in the streaming software.  It's heaven for a music fan like me.
We would love to hear what your plans on with your next project – Are you going to a full CD, an EP or just release songs as you finish them?  Release them digital only or combine physical with the digital or what?
SR: Just due the pace at which I record (glacial), I will probably stick with the EP model, so I can get something out without too long a gap between projects.  I'm going to stick with digital only, which I think is the most efficient way to get my music heard.  Although, if I can increase the amount of live shows, I'm sure I will create some physical product to sell.
What are you finding that is working well for your music right now that others may find interesting to hear about?
SR: Well, I'm making progress in the quality of the recordings, which I think will be evident in the next release.  I'm settling into an arrangement style, with a classic line-up of two guitars and Hammond organ, which just sounds so good to me.
Okay – time for some light humor!  Spinal Tap Moment: dig deep. Locate. Relive. Share that special 'trauma' with all of us! 
SR: I actually have a favorite story along those lines.  Years ago, when I was in college at the University of Michigan in Ann Arbor, I was in a cover band and we played the bars around the area.  One weeknight, we were playing a bar in Ypsilanti, a town nearby.  The bar was really empty that night, except for one lone grizzled biker-looking guy who had pulled a chair out on to the dance floor where he could study us intently.  He was pretty much just quietly drinking his beer during the set as we played cover after cover.  Finally, it was time to play our one original, one of my early songs.  So I introduced it as such, saying, "This next one is an original, hope you like it!"  And with that, we played the song.  After we finished, there was dead silence in the room.  Then the guy spoke up, his voice very clear in the empty room:  "That was a real shitter.  That was real shit."  Sorry for the language, but I just love the story.
Is there a particular musician(s) you'd love to collaborate with – and why?
SR: That's a great question.  A few names spring to mind, but I think my number one choice would be Juliana Hatfield.  She is one of the greats – both as a writer and performer.  Her body of work is staggering; she rocks as hard as anybody and has an amazing melodic and harmonic sense.  She writes from the heart and there is no affectation in what she does.  I can always sense a bit of a pose in nearly every artist, but she is absolutely free of any kind of posing.  As a result, her writing is as honest as can be, which is rare and brave.
Advance apologies: the so-called 'classic' questions.   What other artists and bands have influenced your music and any particular reason why? Also, push come to shove: "Your Top 5 Albums Of All Time"?  (Pop Geeks really are interested in this, trust us!)
SR: It probably goes without saying that I'm a huge Raspberries fan.  The combination of the pop thrash of the Who and the melodic and vocal sense of the Beach Boys is very potent.  I just love those singles; they are the AM radio soundtrack of my formative years.  Beyond that, it's a real grab-bag:  My first album was the Banana Splits, which I made my mom buy me from its display in the cereal aisle of the grocery store.  From there I moved into loving all those great singles on the radio between about '69 and '74.  After a few years diversion into jazz fusion and prog rock (I still think Yes has many elements of a great pop band), I went back to my pop roots through, of all things, the Flo and Eddie solo albums (they are all very good)., That led me to The Turtles, a band that I pretty much missed out on the first time around and who reminded me how great the 3 minute pop single could be.  Shortly after that, in '77, it was Elvis Costello, Blondie, Dwight Twilley, The Records; just a great period in music and a rebirth of the great pop song.  Since then I've really been all over the map, but I especially love good song writing:  Lloyd Cole, The Wallflowers, Paul Westerberg, Marshall Crenshaw…
Top 5 albums (this is tough):
Raspberries – Greatest Hits
Elvis Costello – Get Happy
Juliana Hatfield – God's Foot
The Wallflowers – Bringing Down The Horse
We're always trying to find new music discover here at PGH – what are some of your favorite music releases of the last few years?
SR: I'm sure most readers are aware of the power pop releases, but I can definitely recommend a couple outside the genre.  For sure, check out Vic Ruggiero's "This", which is full of awesome songwriting from a solid roots perpective.  Also, Brazilian singer, Céu, is doing incredible things with experimentation in samba; I recommend "Vagarosa" by her.  
Yes, it would be great if most indie musicians could work on music full-time but the reality rarely the case for most of them.  I am always asked by music fans, what are the careers or full-time jobs that the musicians of the music they are listening to do…so 'what's your main gig?!'
SR: I'm an analog integrated circuit designer for Texas Instruments.  I design the chips that are used to manage the power in your phone, in your computer, in your TV, in your car, etc.  It's a creative job and I get to listen to music while I work!
Okay, last question:  Where can we hear more of your music and any other releases you have?
SR: Please look for me on iTunes, Amazon, and Spotify.  Also check my Facebook pages (shown below).  I will be playing live with and without a full band around the San Diego and Los Angeles areas.  I have one project with a fellow San Diego musician and songwriter, Scott Samuels, that will be the two of us on acoustic instruments.  I will also be gigging with my band "Mess Of Fun" starting after the new year.  The best way to check in on those gigs, as well as upcoming recordings, will be at my Facebook pages or email.  (Shown below…)
http://facebook.com/steverosenbaummusic
email: [email protected]