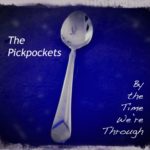 PGH is all about helping artists highlight their most recent projects, so let us all know what your latest project is – and tell us about how it come into the world. What has the initial feedback on it been like?
Allen Duarte – bass & vox: We're still in the early stages of getting ready to record our second album. We have been writing new material, and the next step is to really get the songs down cold – figure out what arrangement we like best, hammer out the harmonies, things like that – before we commit to the recording process. During which, we will change our minds about what the songs should sound like!
The Recording Process: There are so many interesting ways that music projects come into the world these days compared with what artists had to struggle through years ago. Take us on the creative arc of how this project came into being and any wisdom that you learned along the way. Also, what were some of the obstacles or struggles that you encountered when you were working on the project?
Brian Baseggio – guitar & vox: Speaking about our first album, it really started to come together from a desire to get all these songs captured for posterity. We'd been a band for quite a while when we started working on the record, and we had a lot of really great songs, or so we felt. We certainly never set out to sell millions of copies – I think it was more just to give our fans the songs so they could sing along at shows. Initially there was some division over how to do it – the DIY approach we ended up taking, have a friend record us, or go into an actual studio. I leaned towards the DIY approach and started collecting the gear to make it happen. I finally broke the impasse by going into our practice space on a holiday weekend and staying up all night cutting a version of one of our songs all by myself. It's not so great musically – I'm not a drummer, nor can I play keys, and my bass skills are that of a guitarist, but it sounded good enough to convince the others to give it a whirl.
Along the way we learned that drums are a royal pain to record, and that you have to just keep trying things until it sounds right. You really have to question your assumptions every step of the way – we had to re-record vocals for three songs after discovering that the everyday microphone sounded better on Kiri's voice than the slightly nicer one I'd bought. It's also tough to get something like this done when you have four people with very full lives – it often became a matter of forcing people to make extra time to get their parts done. And the mixing process then fell on my time. All of this influenced the name of the album – By The Time We're Through. But I'm so glad we did it this way and I can't wait to get going on the next one!
Kiri Klawitter – vox & keys: I loved the DIY approach – I think it made us communicate better and brought us closer as a band. We took our time, made it what we really wanted. Although the snail's pace of it was sometimes frustrating, I loved working together on it. And major props to Brian in getting all of the equipment and tackling the tech aspects. Without him and all the research and countless hours playing on computers, it would never have come out so well … if at all!
Are there any particular songs on this project that are special to you or communicate a message that you'd like to share here?
Allen: I am really excited about the second album. Our process tends to be slow, so my anticipation builds steeply from the moment of the writing of a song to the time much, much later when we finally get it recorded! I think it's going to be stronger than our first, with great songs from both Brian and me. I'm pretty sure a couple are going to have horn parts, which I am super-psyched to hear, and one will probably have a Motown-ish/girl group vocal from Kiri, if I get my way. And it'll be awesome to be able to finally record with PJ behind the kit.
PJ Wintermute – drums: I think we can all relate to a time in our lives where we just wanted to bury our heads in the sand to avoid our problems and that's why I think The Ostrich Defense, from the first album, really speaks to me.
Kiri: On the first album, Stalingrad and Never Turn Around Again … both are special to me in both the message and musically. I found myself being able to most easily relate to the message of interpersonal struggle and getting past or through them in both songs … yet in contrast, they were two of the harder songs for me to figure out how to sing – Stalingrad was an incredibly challenging melody to learn – and Never Turn was challenging in that it's a more heartfelt song. I have an easier time putting anger and fire-y emotions, or snark and sarcasm into my singing than softer and sincere emotions, so it was harder for me to find the right way to express Never Turn. So those two songs both really speak to me, and have provided the most musical satisfaction.
For our second album, there are several songs that I feel have stretched all of us even further creatively. I'm really proud of the harmony I was able to contribute to The One Dream, and am stoked to tackle the Girl-Group-ish vocal (which Allen referenced) on Prime Meridian … and PJ's new take on When the Drugs Wore Off really filled out the song – made it feel more whole and complete. I think we'll be showing a lot more stylistic range on album #2. And it looks like Allen might just be singing lead on one of his songs!!!!!
As we all know, the music industry has been devastated for many reasons over the past 10 years, what are your thoughts on these changes and are you finding some of the changes helpful to you with getting more people to hear your music?
Allen: It's difficult to say how we would've fared under different conditions. Probably no worse, and almost certainly no better. Really, we would've had to make more of an effort to tour and network and promote ourselves but those are all things we should be doing now. It's a lot easier to throw things on a website and email links out than to negotiate the logistics of gigging within a wide radius of home. The reality is that we started this band at points in our lives that no longer permitted us to devote ourselves to music; our families and professional choices mean that we need to rely on the internet and sites like this to get our songs heard.
Brian: I would tend to disagree with Allen, almost always, but specifically with regard to the "certainly no better" comment above. I think most of the so-called devastation has had to do with the disruptive nature of technological advance. For the world of music in general, I think it's been a push. It's easier to get records made and heard, but people are less willing to pay for them. Fans have to filter through more noise to find the signal, but there's tons of great music out there if you're willing to dig.
For us specifically, I can't imagine that we could've made a recording that sounds so good, for so little money, and on our own terms in any previous time. Between inexpensive DAW software, plentiful disk space, fast computers and the ability to buy recording hardware secondhand from around the world, it's a pretty great time to be a DIY recordist. And while we might never get on the radio, we can easily be found on Spotify and all the major streaming services. It's certainly true that all this technology has probably encouraged a complacency that hasn't done us much good. Like Allen says – it's very easy to put something on the Internet as opposed to papering the streets with posters and handing out demos after shows.
PJ: I'd disagree with the statement that the music industry as a whole has been devastated. There's certainly been winners and losers. I think we've been one of the winners. It used to be that you could ask anyone, "what bands do you like?" and they'd list maybe list 5 bands that were all signed to major labels. Now I think most people would list at least 15 to 20 bands and I think their answer would include some bands that are unsigned or signed to independent labels. So there's been more winners than losers. In order to get your music heard you no longer need the backing of a major label and I think this is a huge win for the music industry as a whole.
Along the lines of this discussion, it would be really interesting to get your thoughts on what you think the future of 'music enjoyment' will look like in the coming years? How do you personally enjoy and 'consume' music? Any trends you've noticed with your own habits compared to, say, 10 years ago?
Allen: I'm not good at prognostication. I am pretty sure I will continue to lose touch with new music. Part of the problem is the abundance of it – it's daunting to try to figure out what I might want to listen to. And the other part of the problem is the lack of time. I can't dedicate whatever time I used to to reading liner notes and memorizing lyrics and browsing record stores. So even when I find something I like, the chances that it will resonate with me like the music that I discovered as a teen are basically nil.
Brian: I've certainly found that all of the technology makes it easier to gather music and take it everywhere, but discourages connecting to it. When we had CD players or god help us cassettes, I often wound up leaving the latest purchase in my CD player for a couple of weeks listening to it over and over again. When the digital player stops, it usually just falls back to a blank state and you have to pick the next thing to listen to. I also find that visualizing a digital collection is harder than a physical one. Right now, I'm looking at my CD bookcase and I can pick out dozens of recordings just by the distinctive spines. A list of artists and albums or even Apple's Cover Flow just can't compare to that mental/pseudo-tactile experience. Then again, It'd be impossible to pack up a thousand CDs and carry them onto the CTA with me.
Kiri: Currently for me, it's the best of both worlds. At home I still have a record player and LPs, and a dual cassette deck, CD player and my dad's old Advent speakers – so I can get that tactile experience Brian referenced … because there is still nothing as satisfying as the sound of the needle hitting the vinyl and those splendid moments of hiss before your favorite songs envelop your ears. Yet at the same time, that frustration I used to get ..when I'd be out with friends and just have a hunger to hear a certain song … now I can just pull it up on my phone!!! Frustration be gone! And finding new music is actually less time consuming that it used to be. We luckily still have some great radio stations that are somewhat helpful in that regard … but with Pandora and Spotify and a bazillion different music streaming and discovery sites out there, you just hit random and start bookmarking new songs. Yet word of mouth from friends, and hearing opening bands at shows … those would still be my favorite forms of music discovery. But I do miss CMJ magazine and the physical CDs they included – the days those arrived were always my favorite days.
We would love to hear what your plans on with your next project – Are you going to a full CD, an EP or just release songs as you finish them? Release them digital only or combine physical with the digital or what?
Allen: You know, I guess we haven't really had a robust discussion about it. I assume the next album will be like the last one – a full album, release on CD and digital. I, for one, really need to have a physical product. It's not as real to me otherwise.
What are you finding that is working well for your music right now that others may find interesting to hear about?
PJ: We are constantly growing as people and musicians and also with me being the newest member of the band I think you'll find that the new album displays our progression in a very unique style. We've come a very long way in my first year with this band and I think you'll find that our new album displays a blending of our styles.
Time for some light humor! Spinal Tap Moment: dig deep. Locate. Relive. Share that special 'trauma' with all of us!
Brian: Well, we are on our fourth drummer, and there have been four other secondary guitarists in the band. We got so sick of trying out those egomaniacs (I'm the guitarist for the band, BTW) that we just decided to go on with one guitarist. But none of them are dead that we know of. My favorite Spinal Tap moment might be one of the nights recording The Ostrich Defense (the song included on this year's IPO collection) that we devoted entirely to hand percussion, like tambourines, shaker, handclaps and stuff like that. I asked Allen which of these he might like to put on the track and his response was something to the effect of "they're all pretty awesome." It was a pretty ridiculous night, but I'm really pleased with how it turned out.
Kiri: Playing an outdoor gig … I inhaled a sizable strand of my own hair while singing … and the other end was still attached to my head. I had to pull the hair out of my throat while still singing … and I didn't puke!!! And no one I asked said they noticed … so … yay?
Is there a particular musician(s) you'd love to collaborate with – and why?
Allen: You never want to meet your heroes, though, right? In a dream world, I would love to record at Dub Narcotic, or have someone like Tommy Keene or Ric Menck guest on a track, or be handed a song by Michael Penn or Fred Thomas to record. What's Kleenex Girl Wonder up to lately? Let's give that dude a call. I would prefer a collaboration that appeals to my music geek side as opposed to one that involves someone who is universally adored.
Kiri: I just want to sing in harmony with Bowie. So pretty much the exact opposite of Allen … as usual.
Advance apologies: the so-called 'classic' questions. What other artists and bands have influenced your music and any particular reason why? Also, push come to shove: "Your Top 5 Albums Of All Time"? (Pop Geeks really are interested in this, trust us!)
Allen: I've always been most drawn in by lyrics, assuming you've combined those with a great melody and a beat. The ones that tell a good story, or are poignant, or witty, or sometimes just have a turn of phrase that captures how you feel. So I've always been a huge fan of Billy Bragg, the Wedding Present, the Smiths, the Magnetic Fields. The Mountain Goats and the Weakerthans to get a little more contemporary.
Kiri: Bands/artists that make me happiest … The Cure, Bowie, Jeff Buckley, The Secret Machines, Silversun Pickups, Beatles. And vocally I try to channel my inner Chrissie Hynde, Ann Wilson and Cyndi Lauper – amazingly badass women with stellar voices and the ability to make you feel a song rather than just hear it.
We're always trying to find new music discover here at PGH – what are some of your favorite music releases of the last few years?
Allen: I don't know that I listen to anything that's freshly born. I am a few years behind. I really like the Front Bottoms, Alvvays, Surfer Blood, the Orwells. I saw Laura Stevenson at Riot Fest a couple of years ago and she was great.
Kiri: Lately I've been digging Kongos, AWOLNATION, Walk the Moon, Bastille … and there's an amazing song I keep hearing by Nathaniel Rateliff & the Night Sweats … I need to go find more by him.
Yes, it would be great if most indie musicians could work on music full-time but the reality rarely the case for most of them. I am always asked by music fans, what are the careers or full-time jobs that the musicians of the music they are listening to do…so 'what's your main gig?!'
Brian: In the time I've been in this band I've gone from various techie jobs (IT, software development) to being a Sous Chef at a restaurant and I'm now a stay at home father.
Allen: Lawyer.
Kiri: I work for a cable TV network … I'm a numbers nerd. Ever heard of a Nielsen Rating???
Where can we hear more of your music and any other releases you have?
Brian: Our entire debut album, By The Time We're Through, is available for streaming and free download at music.thepickpockets.com. You can also order a physical copy there. It's also available to stream on all the major services like Spotify or to purchase on iTunes.