JANGLE ON!
APRIL
by Eric Sorsensen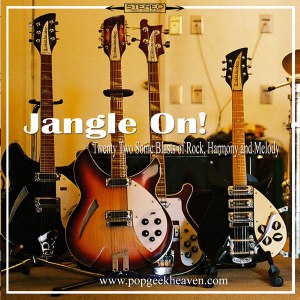 A fellow jangly music enthusiast recently pointed out that I haven't submitted a column to the Pop Geek Heaven website in several months.  2017 got off to a slow start when it comes to jangly music, but there has been a steady stream of new material in the past six weeks … so it is time to clear the "backlog" and share some thoughts on recent albums and songs:
The Story So Far: The Best Tracks Deluxe Edition – GAT (Graham Allman-Talbot).  This soon-to-be-released disc is no mere retrospective compilation; rather, it is a labor of love.  Graham has devoted countless hours to re-recording many of the songs and remastering every track.  Graham takes great pride in his multi-track precision, quality and perfectionism.  While it was difficult for Graham to distill this project to just 20 songs, he placed a great deal of emphasis on selecting a wide variety of song styles.  The material varies between ballads and mid-tempo tracks, alternates between piano-driven, acoustic guitar and electric guitar leads, and includes many genres – pop, rock, folk/rock, country and even doo-wop.  And, not surprisingly, many of these tracks feature Graham's chiming Rickenbacker 12-string guitar.  The album gets kick-started with the very catchy tune "I Can't Believe It;" and by track four – a GAT cover of Bob Dylan's "If Not For You" – the Rickenbacker 12-string slide and vocals will strongly remind the listener of George Harrison.  Graham channels his Roger McGuinn persona on his excellent version of "Turn! Turn! Turn!" and he elevates the Byrdsian sound of his Rickenbacker on McGuinn's favorite encore number -"May The Road Rise."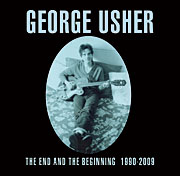 The End And The Beginning 1990-2009 – George Usher.  Speaking of compilations: George Usher treats pop listeners to a two-CD, 43-song retrospective.  If you don't already have a complete library of George Usher material (like I do), this compilation is a great place to start appreciating Usher's exceptional body of work.  There are times when George's voice and guitar work can be mistaken for Roger McGuinn.  Standout jangly tracks include "It Was Love," "Not The Tremblin' Kind," "Are You Coming Or Going," "You're Only Spinnin'," "Blind Man's Blues" and "Begging For Rain."   Long may you run, Sir George!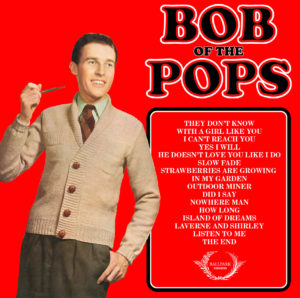 Bob of the Pops Volume 1 – Robyn Gibson. Wow!  This project from multi-track artist Robyn Gibson features sixteen cover tracks (two versions of Kirsty McColl's "They Don't Know") and lots of chiming Rickenbacker 12-string riffs that will saturate your mind.  Gibson excels at his craft; he turns two Teenage Fanclub songs – "Slow Fade" and "Did I Say" – into crisp, sweet pop treats.  "How Long" is very catchy and Byrdsian.  Long may you run, Sir Robyn!  Don't make us wait too long for Volume 2!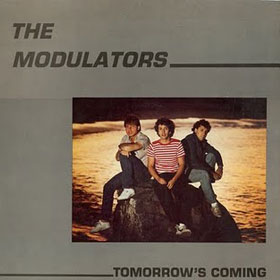 Tomorrow's Coming – the Modulators.  It is no surprise that Ray Gianchetti is carrying this excellent compilation of mid-1980s New Jersey jangle pop on his Kool Kat Musik site.  My favorites include "Jimmy Says," "Lies," "Like Falling In Love" and the band's cover of "My Back Pages."  The band has reunited and recorded a new disc in 2015 … but I remain a big fan of their timeless pop material from a more innocent era.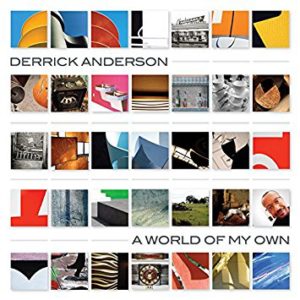 A World Of My Own – Derrick Anderson.  I saw the very talented Derrick Anderson last August, when he toured as the bass player with the Bangles.  Anderson shines on this power pop album that features guest appearances by the Bangles, members of the Smithereens, Nelson Bragg, Matthew Sweet, the Cowsills Robbie Rist, Probyn Gregory … and others.  This disc: features excellent original material; has plenty of references to pop artists from the past five decades; and the guitars jangle most on "When I Was Your Man."  A World Of My Own is a hands-down contender for Top Ten honors in 2017.  Long may you run, Sir Derrick!
Also on my recent playlist: some excellent selections from Ray Verno's Byrdsian Volume 121 and 122 compilations – the very jangly "New York" by Pete Kennedy, the REM-influenced "What Else Could You Do" by the Stars of Heaven," the Teenage Fanclub-influenced "Butterflies" by Arvidson & Butterflies, the Byrds-inspired "Time Don't Wait" by Marty Stuart and His Fabulous Superlatives, "Yes I Will" by Robyn Gibson – sounding very much like a Jiffipop track, and a number of chiming tracks by the Hazey Janes.  The Powerpopaholic website turned me on to some nifty jangly tracks by the Drywall Heels, "Something In The Way" by the Campbell Apartment, "When The Time Comes" by the Well Wishers, "The Friendly Stars That Glow" by Spygenius, "Cookie Jar" by Chris Collingwood and "Lovers" by the Tom Fuller Band.  Other recent discoveries include "She Don't Remember" by the Sequins and tracks by Pop Co-Op, the Rallies (strummy pop that reminds me of the late 90s band Colony) and the Never Never.
During the long holiday weekends in January and December, I also reacquainted myself with Souvenirs: Little Gems of Pop Volume II – the fabulous 21-song compilation of jangly tunes released by Sound Asleep Records in 2014.  In addition, I "dug up" three volumes of jangly nuggets during those same winter weekends; highlights include "We Howl" by Boys In The Wood, "Light's Out" by Boyce's Road, "Wasted Time" by Par Basset, "Not The Same" by Diamond Hands, "Things On My Mind" by Autumn Defense, ""Catalans" by Messenger 45 and "I Feel So Sorry Now" by the Outnumbered.
I had the good fortune to see the Kennedys at Jammin' Java last month.  Pete and Maura performed an all-request show that included their brand new song "Don't Talk To Strangers" and two Byrds tunes – "Here Without You" and "Eight Miles High."  Since the Kennedys had recently participated in a Gene Clark tribute show in New York City, Pete Kennedy confessed that he and Maura can now perform over 30 Gene Clark songs on request.  2017 marks the 50th anniversary of Gene Clark's first solo album, and other Gene Clark tribute shows may occur later this year in Nashville, Austin, San Francisco and other cities.  I encourage Gene Clark fans to check online for more details about possible tribute shows.
Byrds and Roger McGuinn fans in the mid-Atlantic should be scrambling for free tickets for a Library of Congress-sponsored concert in Culpeper, Virginia on May 10th that will feature Roger McGuinn and Marty Stuart and the Fabulous Superlatives.  These same artists have done live shows together in the past; check out their "Turn! Turn! Turn!" collaboration on YouTube.
Enjoy the spring season … and until next time, jangle on!