JANGLE ON!
Fall 2017
by Eric Sorsensen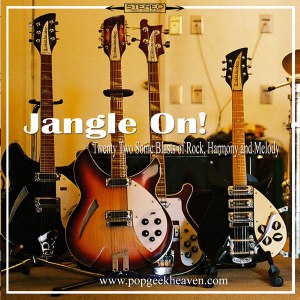 I am long overdue with chronicling the latest in jangly music.  2017 has been a banner year for chiming, jangly 12-string tracks – so much so, that it will be difficult to select the songs that make this year's "Best of Jangle Pop" compilation.  Kool Kat Musik, CD Baby, the Powerpopaholic website and Band Camp have all featured some fabulous jangly music this year.  Here are some of the more recent discs and tracks that I recommend to fellow jangly music enthusiasts: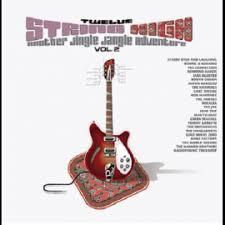 Twelve String High (Another Jingle Jangle Adventure) Volume 2 – compiled again by Ernesto Gonzalez (guitarist with the Byrds-inspired band Pribata Idaho) and picking up right where Volume 1 ended.  This compilation features another 24 tracks of pop tunes by indie artists that feature the pronounced sound of an electric 12-string guitar.  In fact, the artist credits identify exactly what type of 12-string guitar is used on each of the tracks; in some cases, the clarion sound is provided by a 1989 Rickenbacker 370RM – the Roger McGuinn signature model that was limited to a production run of 1,000.  Volume 2 highlights include: "When She Comes To Town" by Rob Martinez, "Forever Young" by Starry Eyed and Laughing, "5D" by Robyn Gibson, "Real World Time" by the Britannicas and "Disconnected" by the JAC.  This is a "must have" disc for fans of jangly music – and a great stocking stuffer for the 2017 holiday season.  Well done, Ernesto!
Biography – Horst-Peter Schmidt.  Prolific (21 solo and group albums – and counting) German Jangle Meister Horst-Peter Schmidt (AKA the Crown Prince of Twelve-String) treats his devoted fans to a three-CD/one DVD retrospective of his musical career.  Biography gives listeners an intimate portrait of Horst-Peter; imagine sitting in a living room and being treated to a house concert featuring only Horst-Peter's voice and his Rickenbacker 370RM 12-string guitar. This 34-song compilation focuses on Schmidt's past solo and group work (Different Faces, Starbyrd); I am pleased to report that Horst-Peter is already working on material for his next release with Starbyrd.   Long may you run, Sir Horst-Peter!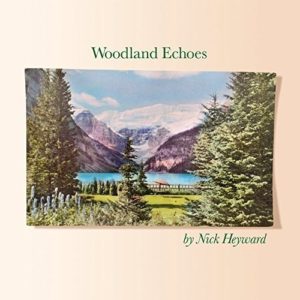 Woodland Echoes – Nick Heyward.  The eighteen year wait between solo discs by pop singer/songwriter Nick Heyward was well worth it!  Half of the tracks favor an orchestrated Beatlesque tempo and half of the tracks showcase Heyward's penchant for chiming Byrdsian tunes.  Regardless of their preference, power pop listeners will savor all of the contents!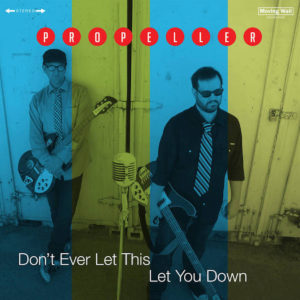 Don't Ever Let This Let You Down – Propeller.  The photo on the CD cover – showing Propeller bandmates Greg Randall and Will Anderson with their Rickenbacker guitars – will grab most jangleholic's attention.  The ten tracks, bristling with ringing Rickenbacker riffs, will sustain your attention!  The leadoff track -"Summer Arrives" – garnered my "Song of the Month" honors earlier this year.     
Fellow 12-string enthusiast Ray Verno recently sent me his latest Byrdsian 125 compilation – which features a number of tracks by Roger McGuinn's musician son Henry McGuinn; not surprisingly, many of Henry's tracks showcase the mid-60s chiming sound of a Ricky 12-string guitar.  Other notable tracks include "Aliens" by Matt Whipkey, "Black Gypsy" by Les Fradkin (who has a premium compilation in the works – check his RRO website), "All The Myths On Sunday" by Diesel Park West and "It's Up To You" by the Jayhawks.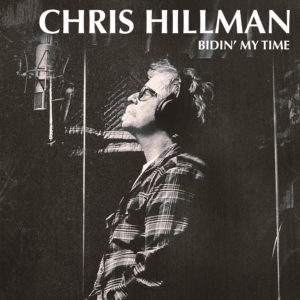 I was fortunate enough to be in the audience when Chris Hillman, Herb Pedersen and John Jorgenson performed at the Birchmere in late September.  The trio opened their show with a wonderful version of "Bells Of Rhymney;" and the set list also included "Turn! Turn! Turn!" "Eight Miles High," and two Gene Clark compositions – "She Don't Care About Time" and "Set You Free This Time."  The group also performed "Here She Comes Again" – a Hillman-McGuinn penned tune that was performed briefly in the late 70s, but wasn't recorded until it was included on Hillman's new CD – Bidin' My Time.  Chris Hillman mentioned to the audience that he had recently asked both Roger McGuinn and David Crosby if they recalled seeing Gene Clark carrying a notebook with song lyrics when they were together in the Byrds; neither one remembered seeing this – which is a continuing testament to Gene Clark's brilliant flow-of-consciousness songwriting skills.   
Other tracks worthy of jangleholic attention include: "On Time" and "One Time" by the Stone Ridge Covered (a Powerpopaholic production); "You Know It's Right" by Stay; an excellent cover of the Beau Brummels' "Laugh Laugh" by Rob Seel; "The Light" by Fernando Perdomo; "Whole World" by the On and Ons; "Cryin' Shame" by the Flamin' Groovies (whose tour lineup now includes Chris von Sneidern); "I Don't Mind" – an excellent pseudo-60s nugget by the Baron Four; "Starting Again" by Shake Some Action; "All Mine" by the Morning Line; "You Make Everything" by the Eddies; and "Singing Man" by the Beginner's Mynd (a Byrds-inspired psych-pop band from the Washington, D.C. area).  So much music, so little time!
This will be my last column in 2017 … and it may be the last "Jangle On!" column written for the Pop Geek Heaven site.  Bruce Brodeen is now poised to make a career transition that will not permit him to devote the time necessary to maintain the Pop Geek Heaven site. Bruce and I collaborated on two tribute disc projects – Full Circle: A Tribute to Gene Clark and Five Way Street: A Tribute to Buffalo Springfield – that were released on Bruce's Not Lame record label.  In addition, Bruce and I worked together on the 22-song Jangle On! compilation that was made available for download to Pop Geek Heaven subscribers.  Bruce and I have forged a strong friendship over the past twenty years, and we have shared an equally strong musical simpatico.  I have visited with Bruce and his family in Fort Collins, Colorado and they have been our house guests in Arlington, Virginia (a visit that included attending a Bangles show at the 9:30 Club).  Bruce's passion for power pop will continue, and I am grateful to Bruce for sharing his passion and insights with me.  Long may your run, Sir Bruce!
Until next time, jangle on!
ERIC