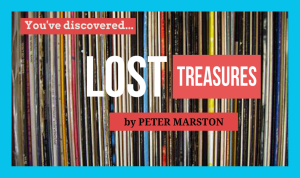 BRUTE FORCE
"Confections of Love"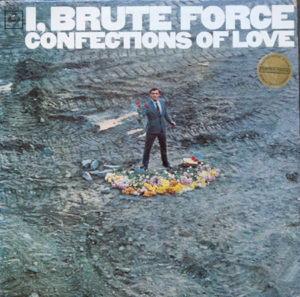 by Peter Marston
Most pop fans have never heard of Brute Force (born Stephen Friedland) and if they have, it is almost always in the context of the star-crossed "King of Fuh" single on Apple Records. "King of Fuh" is a somewhat childish novelty song, but I confess that it never fails to get a laugh or smile when I may play it for friends. It's a rather majestic ballad whose lyrics begin quite earnestly: "You look up high and you see the sky so big and blue/And you wonder why people don't worship beauty." The lyrics then go on to describe a "beautiful land" called Fuh which is ruled by a king called the Fuh King. Well, that's an amusing homophone, to be sure. The recording attracted the attention of George Harrison who was given a listen while visiting New York City. Harrison brought the song back to John Lennon, who also loved it and it was decided that "King of Fuh" would be released as one of Apple's early singles, once Harrison had overdubbed some strings in a session with the London Philharmonic Orchestra.  However, when Apple's distributors—EMI in the UK and Capitol in the US—refused to go along, a small pressing was distributed independently (some sources say 1,000 copies were pressed; others say 2,000). It remains the rarest single on Apple.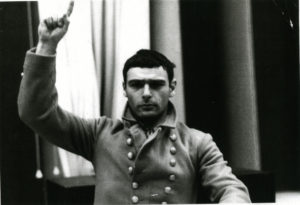 Friedland, however, had a fairly successful music career well before the "King of Fuh." In his early 20s, Friedland had co-written a song placed on a Peggy March single which led to a stint in The Tokens and more songwriting credits, including songs recorded by The Chiffons, The Happenings, and another band with prominent Beatle connections, The Cyrkle. Indeed, it was Tommy Dawes of The Cyrkle who got Friedland an audition with famed producer John Simon, who at that point had just branched out from producing Broadway cast albums to pop music. Simon found Friedland's songs charming and funny and arranged for him to be signed to Columbia Records. Somewhere in this process the Brute Force alias was invented, perhaps to protect Friedland's more serious efforts as a songwriter and musician. At any rate, Simon produced an album's worth of tracks, all featuring arrangements by Pat Williams and in the spring of 1967, Confections of Love was released, somewhat comically credited to "I, Brute Force."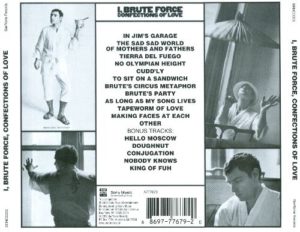 The album consists of songs that, like "King of Fuh," can only be construed as novelty songs. They are more absurdist than jokey, rougher and more bizarre than Mason Williams, but in the same general ballpark. And like Mason's Williams' work, the music itself is generally interesting and appealing in its own right. The songs are straight pop mostly, with occasional pokes at the conventions of teen music (à la Zappa), while the arrangements lean toward the type of overproduced folk-rock that you might find on a Sonny and Cher record.
The opener is "In Jim's Garage," one of the best tracks on the album. It's a driving, very dramatic number (reaching almost Gene Pitney heights) recounting the love a young disaffected girl finds in, well, Jim's Garage. It's outlandish and funny, but I find it moving nonetheless: I think people do find love in common, even low places. "The Sad Sad World of Mothers and Fathers" is cluttered with some cartoonish voices engaged in incidental dialogue, but presents a very funny take on the annoying interruptions in life created by our children. It's also the most musically ambitious track on the album with segues, inserts, and abrupt tonal and tempo changes somewhat reminiscent of Jim Steinman's work with Meat Loaf some ten years later. "Tierra Del Fuego" is a merely silly faux-Latin ditty about the charms of the South American archipelago. And when I say "faux," I mean it: this is a pale imitation of The Tijuana Brass, which itself is already pretty pale. "No Olympian Height" is an overblown love song of both mundane and hyperbolic pledges of devotion that alternates between gentle passages that recall Donovan and choruses of bloated MOR. Again, though it's clearly played for a joke, I find it quite romantic. "Cudd'ly" is a pseudo-vaudeville number, the type that was quite popular in the age of The Sopwith Camel and Harper's Bizarre.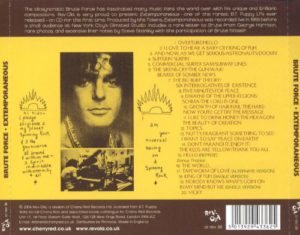 Side Two opens with one of my favorite tracks, "Sit on a Sandwich." Its message is as simple as the title: "nothing could be finer, nothing could be better, nothing could be nicer, nothing could be wiser" than to sit on a sandwich. Later verses extol the virtues of running through cole slaw and pickles. Brilliant stuff. "Brute's Circus Metaphor" is a cluttered minor-key folk-rock song comparing Brute's alleged love to various circus acts. Suitably this circus is followed by "Brute's Party," a fairly predictable parody of teen-love doo wop that offers a more familiar approach to humor—more Weird Al than Firesign Theater. "As Long as My Song Lives" is the straightest thing on the album. The arrangement is ridiculous, but the lyric and the sentiment avow pretty traditional romantic love. With a little adaption of the arrangement, it could have been a hit for Cher circa 1966. Now, at the other end of the spectrum is "The Tapeworm of Love," a funny one-joke song―"the tapeworm of love is eating my heart out over you,"―though the fade out features some pretty unhinged vocalizing. The album closes with "Making Faces at Each Other," another clever set of observations about the absurdities of seeking understanding and happiness in a romantic relationship. In some ways, it's a suitable summary of Brute' philosophy (OK, that's a big word for it).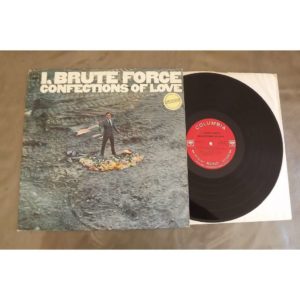 The only single released from Confections of Love was "In Jim's Garage" (the obvious choice, in my opinion) b/w "Cudd'ly." In spite of the lack of chart success for either the album or the single, Columbia did release another Brute Force single in the fall of 1967: the one-off "Toys for Tots" b/w "Brute's Party." Another one-off for Warner Brothers followed in 1968 and then, of course, the "King of Fuh." An entirely improvisational album, Extemporaneous, was released on The Tokens' B.T. Puppy Records in 1971. After that, the trail runs cold until a couple of self-released albums in the '00s. Occasional live shows occurred throughout this hiatus and Friedland even had a part as a Hare Krishna follower in the blockbuster Ghostbusters.
Confections of Love was reissued on CD by Bar/None in 2010 and is readily available. The reissue includes five worthy bonus tracks, including "King of Fuh," making it a real no-brainer. Folk-rock, pop and novelty fans can all agree on this one!
=================================================
Pop Pioneer and "Lost Treasures" writer, Peter Marston is the leader of long-running power pop band, Shplang, whose most recent album, "My Big Three Wheeler" has been described as "the Beatles meet Zappa in pop-psych Sumo match."  Peter has a new project in 2015 under the name MARSTON.   Marston have a track on the latest "Power Pop Planet – Volume 5" compilation just out now and available at:  www.PopGeekHeavenStore.com.
CHECK OUT SHPLANG out at this link:  http://www.cdbaby.com/cd/shplang
==================================================
LINKS:
All Music Guide: http://www.allmusic.com/album/i-brute-force-confections-of-love-mw0000849790
Wikipedia:  https://en.wikipedia.org/wiki/Brute_Force_(musician)
Discogs Listing:  https://www.discogs.com/I-Brute-Force-Confections-Of-Love/release/2105933
Blog Post: http://www.popmatters.com/review/133191-brute-force-i-brute-force-confections-of-love/
Band Site:  http://www.brutesforce.com/
VIDEO:
THE KING OF FUH

TAPEWORM OF LOVE
TO SIT ON A SANDWHICH
INTERVIEW WITH THE BRUTE HIMESELF