(Note From Bruce:  We'll be stretching the definitions of 'power pop' in the "Lost Treasures" area and venture into lost gems from the 60s-00s that not only cover purely power pop bands but also 70s AM Radio Top 40 styled bands, soft-rock and AOR – if there are any bands you'd love to see covered in this area and know of any artists who would like be featured in here, get in touch at:  [email protected])
=========================================
SILVER LAUGHTER
by Eric Abrahamsen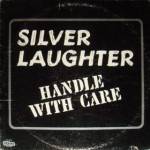 The great state of Iowa has never been known as a hot bed of rock 'n roll activity although looking back through the prism of time its contribution to music history is diverse and significant.  On a frigid night in 1959 Buddy Holly played his last concert at the Surf Ballroom in Clear Lake and later that evening died in a tragic plane crash outside of town. The late James Gang/ Deep Purple guitarist Tommy Bolin was born and raised in Sioux City and what power pop geek can forget the early 80s band Hawks?  Bypassing crooner Andy Williams and metal outfit Slipknot, there have been a number of lesser known bands and artists to come out of the state who released independent product (anyone remember Locust or Litterer?) but never the broke out in a big way.
Connected to Davenport psychedelic/ garage rock favorites The Contents Are whose 1967 album 'Through You' is one of those four digit monsters few collectors ever get a chance to hold in their sweaty palms, let alone own; Silver Laughter formed in the early 70s and backed by a less than lucrative booking deal which put them on stages in every backwater town from Missouri to the Dakotas and throughout the hinterlands of Western Canada; the group released their first album in 1976 on the Des Moines based Fanfare label.
'Handle with Care' while woefully obscure is a classic of Anglophile pop owing as much to The Beatles as Badfinger and with a brace of charming tracks filled to the brim with punchy melodies and harmonies, this baby clocks at eleven on the nostalgometer.  The first two cuts, the jangly 'Any Words You Can Say' and the sugar sweet 'Angela' complete with Pilot-styled handclaps are goodtime pop fun while the harder material and I use that term loosely, trails very close to the Natural Gas album released the same year.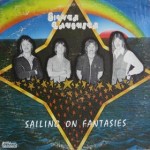 More exhaustive touring including an oddball support gig for Tiny Tim and a chance encounter with Rick Nielsen in an Illinois restaurant just weeks before Cheap Trick's debut hit the stores kept Silver laughter on their toes although airplay was non-existent.  Dressed to the nines in a groovy collage of stars and rainbows; the follow-up 'Sailing on Fantasies' is an veritable hookorama still flirting with pop melodies of the 60s and traces of AOR but with considerably better production and well placed orchestration.  Of course this was 1978 and disco was in full tilt making it difficult to reach live audiences without obligatory Bee Gees covers mixed with their poptastic originals and one hour Beatles tribute. The band fell apart after a meet 'n greet trip to New York which included a typically callous comment from Atlantic Records to 'come back when you've found your own sound'.
Currently far from a cheap search as both records command big bucks when available and while lacking the same notoriety as Middle American indie pop merchants Fools Face or the Titan label's impressive stable of would-be stars; Silver Laughter deserves a  your undivided attention and a prized spot in every power pop connoisseurs collection.
Listen and Download Silver Laughter:
Right Click & Save Below
[download id="61″]
[download id="60″]
If you would like to buy a copy of "Sailing On Fantasies" album on CD – the band have pressed up 25 copies and sell it on Ebay – HERE
Eric Abrahamsen is a life-long music collector with a passion for AOR, Power Pop and Melodic Progressive Rock as well as a contributing writer for numerous related web sites and magazines. Involved with several  CD reissues and the 70s pomp group Starcastle; Eric resides in Minnesota with his wife and four cats and currently can be found at the classic rock web site Glory Daze Music.  www.glorydazemusic.com