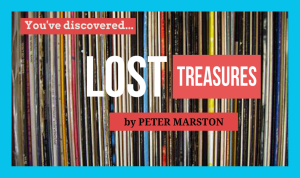 THE DILLARDS
"Wheatstraw Suite"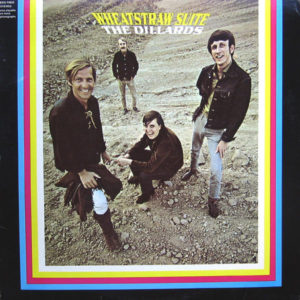 Well, I don't want to embarrass myself, but the truth is that my first exposure to country-rock was through The Monkees TV sitcom. "Papa Gene's Blues" and "What Am I Doing Hangin' 'Round?" were among my favorite Monkees songs and when Nesmith went on to form The First National Band, those were some of my favorite records, too. It was a few years later that I was introduced to The Byrds' Sweetheart of the Rodeo and to The Flying Burrito Brothers and then a few years after that I discovered The Dillards' Wheatstraw Suite, which in my opinion is one of the very best late '60s/early '70s country-rock albums.
Now, if I had been paying better attention, I probably would have noticed that I had in fact seen The Dillards on television well before The Monkees hit the screen. You see, they appeared on The Andy Griffith Show as a bluegrass band called The Darlings—six appearances from 1963 to 1966. Checking out YouTube clips suggests that only the pseudonym and some wicked pickin' saved their career from this corny opportunism, at least in the eyes of progressive country-rock fans.
The Dillards, formed by brothers Rodney and Douglas Dillard, had been playing bluegrass together in and around Salem Missouri since the late-'50s. In 1960, Dean Webb and Mitch Jayne joined and the classic Dillards line-up was in place. After relocating to Los Angeles, the band was signed to Elekra and their first album, Back Porch Bluegrass, was released in 1963. A couple more straight bluegrass albums followed, but then Doug Dillard, experiencing some creative differences with brother Rodney, decided to leave the band. He was replaced by Herb Pedersen and with Rodney is full control, sessions for Wheatstraw Suite were begun, with studio legends Jim Gordon and Joe Osborn brought in to provide the rhythm section.
The album opens with an a capella arrangement of the old spiritual "I'll Fly Away." It's beautifully sung—with a perfect balance of resignation and hope—and remains my favorite recorded version of the song. Here, though it is just a prelude, as things really kick into gear with "Nobody Knows," a mid-tempo country-pop number with lovely changes, lush harmonies and terrific banjo and mandolin solos. "Hey Boys" leans a little more toward traditional bluegrass (Gordon and Osborn are barely present), but the chorus does include some unexpected turns in the vocal arrangement that are more Beach Boys than Stanley Brothers. "The Biggest Whatever" is a cute shaggy-dog story that opens with a snippet of dialogue much like the Nitty Gritty Dirt Band intro to "Mr. Bojangles" on their album, Uncle Charlie and His Dog Teddy. "Listen to the Sound" is a folk ballad that recalls (or rather presages) Jim Croce and John Denver, although the chorus is pretty progressive, if not quite psychedelic. One of my favorite tracks on the album is "Little Pete," featuring great pedal steel from Buddy Simmons. It has a driving rhythm track almost certainly influenced by Buck Owens and The Buckaroos and, if your toes aren't tapping to this one, man, you're dead. Side one closes with a pretty if unexceptional cover of Tim Hardin's "Reason to Believe."
Side two opens with a straight-ahead C&W tune, "Single Saddle," sung warmly by Pedersen. Next up is a bluegrass take on The Beatles' "I've Just Seen a Face" that adds banjo and pedal steel to an arrangement that is otherwise quite similar to the original. "Lemon Chimes" is another folk ballad, this time supported by a tender, subtle string arrangement and featuring a heartbreaking vocal by Rodney Dillard. "Don't You Cry" is a (very) uptempo bluegrass number rounded out by a very lush vocal and orchestral arrangement—perhaps the best example of progressive bluegrass on the album. "Bending the Strings" is just what you might expect from the title—an instrumental showcase for the formidable plectrum prowess of Pedersen and Webb. The album closes with a great version of "She Sang Hymns Out of Tune." The track begins with an audio collage and then transitions into a gradually building arrangement that ultimately soars before ending just as gently as it began. It is, in my view, significantly stronger than Nilsson's version from Pandemonium Shadow Show.
Two singles were released from Wheatstraw Suite: "Reason to Believe" b/w "Nobody Knows" and "She Sang Hymns Out of Tune" b/w "Single Saddle." A third single was produced as a promo ("Listen to the Sound" b/w "The Biggest Whatever"), but was not issued commercially. Nothing hit, but that wasn't too surprising as none of the other country-rock pioneers were charting either. The Dillards' follow-up, Copperfields, released in 1970 is another country-rock classic and nearly as impressive.
After leaving The Dillards just before the recording of Wheatstraw Suite, Doug Dillard went on tour with The Byrds on electric banjo and formed another seminal group with ex-Byrd Gene Clark called, appropriately, Dillard & Clark. Pedersen left the band in 1972, toured and played sessions with everyone from Graham Parsons to John Prine, ultimately joining up with Chris Hillman in The Desert Rose Band in the mid-'80s. Rodney Dillard has kept The Dillards going, playing off and on with various line-ups over the years—and a new album is reportedly in the works.
Wheatfield Straw was reissued  on CD in 2002 by Collector's Choice and more recently on vinyl by Exhibit Records. The CD is no longer in print while the LP is, though both formats are selling for about the same price on various websites (around $25). The album is available for download and streaming on most such sites as well. The original vinyl is also out there, at wildly varying prices (at this moment there are seven copies on eBay, ranging from $10 to $75). If you are a fan of Sweetheart of the Rodeo, The Flying Burrito Brothers, Michael Nesmith and the First National band and/or The Nitty Gritty Dirt Band, you should really give this one a spin!
=================================================
Pop Pioneer and "Lost Treasures" writer, Peter Marston is the leader of long-running power pop band, Shplang, whose most recent album, "My Big Three Wheeler" has been described as "the Beatles meet Zappa in pop-psych Sumo match."  Peter has a new project in 2015 under the name MARSTON.   Marston have a track on the latest "Power Pop Planet – Volume 5" compilation just out now and available at:  www.PopGeekHeavenStore.com.
CHECK OUT SHPLANG out at this link:  http://www.cdbaby.com/cd/shplang
==================================================
LINKS:
All Music Guide:   http://www.allmusic.com/album/wheatstraw-suite-mw0000225067
Discogs Listing:  https://www.discogs.com/Dillards-Wheatstraw-Suite/release/2383554
Wikipedia:  https://en.wikipedia.org/wiki/Wheatstraw_Suite
Blog post:  http://stuckinthepast08.blogspot.com/2010/09/dillards-wheatstraw-suite-1968.html
Liner Notes from the great 'n awesome scribe, Richie Unterberger:
http://www.richieunterberger.com/wheat.html
VIDEO:
NOBODY KNOWS:

I'VE JUST SEEN A FACE:

THE BIGGEST WHATEVER: