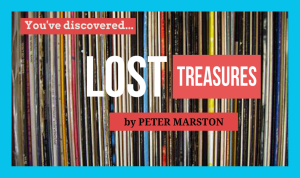 THE QUICK 
Mondo Deco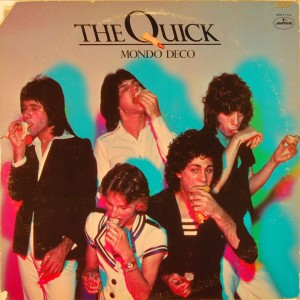 One of the perks of being in the classic rock generation is that you can often impress younger people with the shows you've seen. Kids in their twenties typically respond with choruses of "wow" when I tell them that I saw Led Zeppelin live or that I saw Stevie Wonder the week Talking Book was released. My son can't believe I saw Clapton, Beck and Page all on the same stage (remember the ARMS tour?). Power pop fans tend to be a little snobbier, but I can usually get some respect when I mention that I saw The Babys and The Quick at the Whisky-a-Go-Go during The Babys' first US tour. It was one of my most memorable concert experiences. (Just a year ago or so, I met John Waite at an event at the GRAMMY Museum and he was not impressed by my revelation—in fact he didn't even seem to remember the gig!).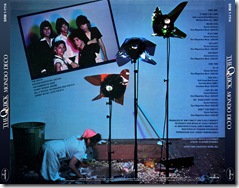 The Quick formed in Los Angeles in the mid-'70s and under the wing of Kim Fowley and Earle Mankey were signed to Mercury Records (as were Fowley's other protégés, The Runaways). The Quick had risen to success in the LA club scene with a terrific blend of power-pop, glam and art-rock, but peaked before the scene got buzz-hot, preceding the more successful Knack and Plimsouls by a few years. Indeed, Peter Case's pre-Plimsouls band, The Nerves, seemed to suffer a similar prematurity. The Quick's line-up reads like a pop geek supergroup: Danny Wilde on lead vocals, Steve Hufsteter on lead guitar (and also the band's songwriter), Danny Benair on drums, with Ian Ainsworth on bass and Billy Bizeau on keyboards. Produced by Fowley and Mankey, Mondo Deco was released in 1976.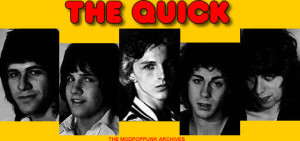 The album opens with a killer cover of The Beatles' "It Won't Be Long" that presages some of The Buggles' production tricks, but that is entirely unique. A '60s cover was de rigueur among post-Raspberries power pop bands and this one is among the very best. "No No Girl" boasts a terrific hook, edgy verses and opens with a clever quote of "Chopsticks" that segues into the body of the song seamlessly. It's another classic. "Playtime" also begins with a classical motif, this time running through much of the song with the whole thing landing fairly close to Sparks. "Hillary" again alternates between edgy verses built around broken drum parts and big hooky choruses with lush backing vocals reminiscent of The Sweet. "Anybody" closes out side one with a raucous drum sound and some great lead guitar work, both falling into complete collapse at about the five minute mark. "Hi Lo" brings some bubblegum into the mix, and in a good way! It's yet another highlight. Next up is a cover of the Four Seasons' "Rag Doll" that reminds me of the '60s covers by the early Dickies, though not taken at such a ridiculous tempo. It's plenty good, but not up to the original material on the album. "My Purgatory Years" has verses offered in fairly stilted recitation, but breaks into a great anthemic chorus, with hooks and oomph galore. The album closes with "Don't You Want It," a solid distillation of The Quick's virtues: a strong melody, a quirky angular arrangement and lush backing vocals. The bridge is especially beautiful.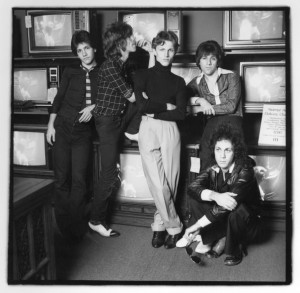 One single was released from Mondo Deco, "Rag Doll" b/w "Last in Line." It was not a hit. The band went on to record some potential singles for Elektra Records, and while some of the tracks were eventually released by The Quick Fan Club, there were no more official releases and no second LP. The band split up in 1978. Danny Wilde, of course, went on to form Great Buildings and The Rembrandts. Steven Hufsteter went on form The Cruzados. Danny Benair went on play with The Three O'Clock and is currently the host of a record club of which I am a proud member!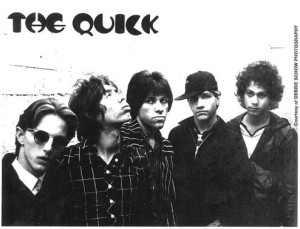 Mondo Deco has never been reissued on CD and is currently not available in the legit digital domain. Given the band's reputation and pedigree, this is a surprise to me and I can't help but think that the album will eventually resurface. Used copies of the original vinyl sell for a wide range of prices. As I write this, amazon has a copy for $35, but the copies on ebay are going for about $200. Fortunately the album is readily available on various torrent and blogspot sites. If you don't have this one, you've got to get it!
=================================================
Pop Pioneer and "Lost Treasures" writer, Peter Marston is the leader of long-running power pop band, Shplang, whose most recent album, "My Big Three Wheeler" has been described as "the Beatles meet Zappa in pop-psych Sumo match."  Peter has a new project in 2015 under the name MARSTON.   Marston have a track on the latest "Power Pop Planet – Volume 5" compilation just out now and available at:  www.PopGeekHeavenStore.com.
CHECK OUT SHPLANG out at this link:  http://www.cdbaby.com/cd/shplang
==================================================
[linebreak style="25.png"]
LINKS:
WIKIPEDIA:  https://en.wikipedia.org/wiki/The_Quick_(U.S._band)
All Music Guide:  http://www.allmusic.com/album/mondo-deco-mw0000850781
LA WEEKLY Article:  http://www.laweekly.com/music/unsung-heroes-of-la-rock-and-roll-the-quicks-mondo-deco-is-reissued-2406618
Blog Post:  http://www.aquariumdrunkard.com/2010/01/24/the-quick-mondo-deco-reissued/
Blog Post:  http://detour-mag.com/2008/01/25/vintage-bin-the-quick-mondo-deco/
VIDEOS:
My Purgatory Years:

It Won't Be Long:
Anybody: