MID JUNE REVIEWS 
by Mike Baron
NELSON BRAGG:  We Get What We Want (Steel Derrick)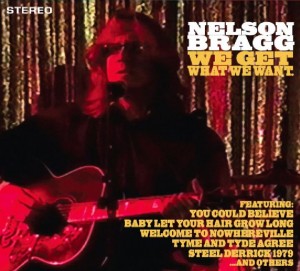 Nelson Bragg has toured with Brian Wilson as a percussionist.  On We Get What We Want he plays a whole lot of everything on a variety of muscular power pop songs with influences from both sides of the Atlantic.  "You Could Believe" gets things rolling with a sweet Hawks/Todd Rundgren vibe.  "What She's Done to Him" is horn rock with a touch of The Bravery and a martial beat.  "Steel Derrick" is a knock-out punch with a Joni Mitchell meets Brian Wilson sensibility starting with a moody acoustic intro that climbs a glorious ladder to a devastating bridge.  I used to live in Boston and have been to the Rockport quarries on which this song is based.  It's a magical place and Bragg captures that magic.
"She Used to Love Me" is sardonic lament in a Nick Lowe mode.  "I'm In No Mood" brings Byrdsian chime to this kiss-off song to a parasite.  "Welcome to Nowhereville" is anti-Buffett in topic and style with its rigorous change-ups and tricky bridge, and "Tyme and Tyde Agree" is the perfect hippie anthem.  "Once in a lifetime time and tide agree."  The album closes with the Beatlesque "Everything I Want to Be."
Four stars.
ORDER CD at KOOL KAT – HERE
JOHN LEFLER:  Shoutfire  (Goodhang)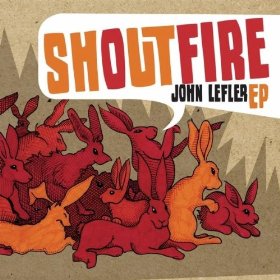 Lefler (Dashboard Confessional) stunned in 2009 with Better By Design, a power pop cornucopia influenced by Jellyfish, XTC and similar bands.  His EP Shoutfire sounds a little harder edged, like Graham Parker meets the Cars, with Lefler's very Car-like keyboards pushing it along. "Shout Fire" is a heartland rocker in the manner of Firetown .  "The Good Life" has a more pastoral feel with its solo acoustic accompaniment.  "Dead Technology" is a minor key charmer about planned obsolescence and "Truth Be Told" is worthy of Paul Simon.  At his best, as on Better, Lefler wrings changes thick and fast–change-ups in rhythm, key, switching from minor to major. Here, not so much although every song here is solid and some are gems.
Four stars.
ORDER CD at KOOL KAT – HERE
DIDN'T PLANET:  We're Goin' Nowhere  (Guilty Dog)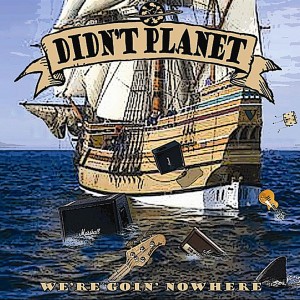 Hailing from Boston's South Shore Didn't Planet releases an exhilarating song cycle dealing with the vicissitudes of a working band trying to play their own music.  The songs are interspersed with hilarious "slice of life" comments.  More importantly, these songs will launch you from your chair like a cruise missile, beginning with "Maryann(e)," high-stakes, high-velocity power pop with machine-gun guitar.  Lead guitarist That Guy is all over these songs like Lawrence of Arabia leading charges uphill and down.  His guitar work is forceful with superb dynamics.  The sound itself is reminiscent of Meyerman, the Goldbergs and other hard-charging lyrical outfits but what sets Didn't Planet apart is their cynical, sardonic, and very funny world view.
"California" sounds like a Michael Carpenter song as well as Abelay Hotel's "Don't Dream of California."   "Bitter" begins with a dreamcatcher-like guitar figure before stepping up into a supercharged confessional–it seems to be about a former band mate, and more than lives up to its name.  "Over You" is more sardonic brilliance set to massive power chords.  "Adam" is about a retarded bouncer who doesn't recognize the band members and sounds a lot like Fountains of Wayne.  "Kinda Got It Goin' On" brings a trace of .38 Special and Molly Hatchett into the mix, and "Someday I Might" is a Scott Miller-esque valedictory that ends the album on a high note.
Love the album art of a Spanish galleon discarding musical instruments.
Four and a half stars.
THE BEACH BOYS:  That's Why God Made the Radio (Capitol)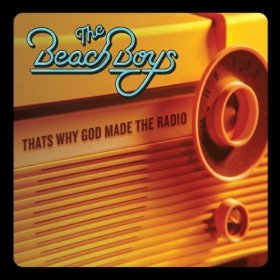 Honestly.  Did anyone think this would ever appear?   Chalk it up to wisdom on the part of the boys who seized this opportunity for one last hurrah.  The cover art makes this look like some kind of K-Tel oldies collection.  Shame on Capitol.  But the record itself is very good–far better than we expected and carrying the emotional heft of not only the Beach Boys' mortality but our own. "Think About the Days" opens the record with a swoon, leading into "That's Why God Made the Radio," which works those by now familiar Brian Wilson changes.  "Isn't It Time," with its minimal instrumentation, effortlessly evokes a bittersweet wisdom.
"The Private Life of Bill and Sue" is Jimmy Buffett-like and not really up to the Boys' best efforts, but then that tuba slips in for a little orchestral magic.  "Shelter" is primo stuff–the gorgeous chords and harmonies which evoke that inchoate longing that lies at the heart of all great pop.  Love's "Daybreak Over the Ocean" shows the old dog has learned a few lessons from Brian (whose conservatorship he once sought.)  "From There to Back Again" belongs on Pet Sounds and "Pacific Coast Highway" brought me to tears.  "Summer's Gone" is the bittersweet coda to this surprisingly strong showing.
Four and a half stars.