PETER BALDRACHI: Tomorrow Never Knows  (Prodigal Son)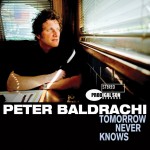 Boston-based singer/rocker Baldrachi releases a strong set of rave-ups, rockers and ballads loaded with hooks and Gary Rand's wildly expressive guitar.  "In the Dead of Night" opens with power chords and a righteous hook with backing chorus.  "Make It On Our Own" is an anthem to independence with a locomotive beat and good bones.  "Promise Me a New Start" with its acoustic intro and harmony by Amy Rigby is very Mellencamp/Scarecrow in sound and theme, about a guy looking for a new start.  Three smart fast rockers to start.
"Pray For Rain" sounds like Nashville power pop, guitars speaking with a southern twang and echoes of Buffalo Springfield.  "Pick Up the Pieces" exudes a sweet country vibe thanks to the mandolin.  "Someone Isn't Me" is major-chord full-throated rock with Rand laying it down like Van Halen.  The C,S and Nashish "In the Name of Love" has that Laurel Canyon lilt, acoustic guitars.  Even without the backing vocals it sounds great.  I also like how their logo resembles the old Blue Note mark.
Four stars.
www.peterbaldrachi.com
Order at KOOL KAT – HERE
CHRIS ALVY BAND:   Art Noise  (Forward Motion)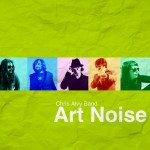 The Chris Alvy Band has a Sloan-like ability to write songs that both rock and pop.  Alvy frequently alternates slabs of rocky dissonance with sweet bridges and harmonies.  "Art Noise" swaggers out of the speakers with snarling guitars and a Stones-like backing chorus.  Guitarist Fernando Perdomo slings stadium-ready guitar.  "Can't Get You Off of My Mind" begins with a dissonance that cedes to the We Five-ish major chord theme, and throws in an extra bridge and hook for good measure.  "The Summer's Day" is bittersweet chocolate, acerbic chords abruptly changing to honeyed majors as Fernando uncoils like a downed power line.
"Something Missing" is Lennonesque introspection.  "Inside Job" masterfully combines a head that could have come off any Billy Joel record before it hits the bridge and evolves into a sinister jam-out with Fernando quoting "Purple Haze."  "The Fall," which appeared on their recent EP, is a mini-masterpiece of building tension and release with a soul-stirring hook.  Not everything is great but there's enough greatness here to satisfy any discriminating power popper.
Four stars.
JOHN LARSON: Songs About Music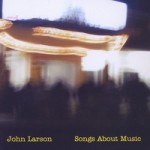 John Larson writes and plays classic power-pop, country, and Paul Simon-like soul stirrers with equal ease.  "Girl in the Band," with its big bass bottom and Beach Boys backing vocals is a terrific driving-around song.  "They're Not Writing Country (In This Country Anymore)" would not be out of place on a Toby Keith record as Larson asks the musical question, "What ever happened to George Jones?"  "Kiss and Yell" combines a muscular power pop head and bridge with a Chinese opera interlude not unlike The Move.  "Billy and Wiggy" uses lilting pedal steel guitar to reprise the tale of Ziggy Stardust with an American accent.
"Havana Won't Know" has a Youngbloods vibe.  "Let's Just Call It Love" could be the theme song to John Hughes movie.  "Track You Down" combines Yardbirds sneer with a sunny major chord bridge.  "The Lifer" is piano-based pop as heartbreaking as anything by Paul Simon.
Four stars.
Order at – KOOL KAT – HERE