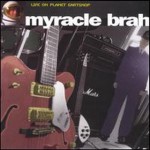 In 1998, one of the power pop's genres most heralded releases came out on the Not Lame Recordings label. It was called "Life On Planet Eartsnop".  It was an immediate classic. "Life"  was reissued, very briefly in 2002 and out of print since 2003.
PGH is going to bring this classic back in print and present a definitive look at the work of Andy Bopp during this period creating a 2 CD tour-de-force that will stand as the definitive example of this great work.
PGH members will be able to interact and interview Andy Bopp on all subjects, not just the "Life" project.  We'll do this numerous times over the course of this PGH members-only project.  We'll evaluate the bonus trax together(and there are a LOT to ponder), figure out who should write the liner notes, take a new look at the work together and get sneak-peak access to the songs before the public.
There will surprises of unreleased songs(including a never before unreleased album from Love Nut!) that will only be available for PGH members. There is even talk of one more new studio album from Myracle Brah album in 2011- which you'll be the first to hear.
AMG gave "Life" a 4 ½ star review and had this to say:  "Channelling the ghosts of late-period Beatles, Badfinger and Big Star with almost eerie accuracy, Myracle Brah's debut captures the sound and spirit of the classic power pop era to perfection. Where Andy Bopp's work with Love Nut absorbs the influences of hard rock and punk, this solo project feels directly beamed in from some time in 1972, as though the subsequent quarter-century never even happened. What the record lacks in originality, it more than makes up for in pure charm. A gifted songwriter, Bopp stuffs Life On Planet with no less than 20 tracks, each of them dead-on evocations of an era long gone by and rarely recalled quite so effectively or affectionately."
We'll get the ball rolling on this one in late October!
In the meantime, I would love to hear any of your thoughts on the record or ideas you may have!