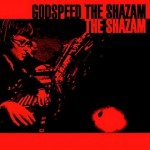 I was the owner of Not Lame Recordings from 1994-2010. The label released almost 100 CDs, no small accomplishment for one man.
In retrospect, it was insanity.
There are many moments of pride in that time but one of my truly proudest accomplishment was to be part of saving one of my favorite bands – ever – from breaking up.
There's a story to be told – and we'll tell here at Pop Geek Heaven.  Hans Rotenberry and I will bring you inside the story of the band during this period(and, in general) and let PGHers into what was going on with the band when they were at the edge, ready to throw the towel in…and after getting through the worst, coming up with their most respected and accomplished work, "Godspeed The Shazam".
PGH members will interact and interview Rotenberry and be able to ask their most pressing questions on The Shazam but, more importantly, we all help guide this project along from start to finish.  PGH members will look at and help evaluate unreleased and bonus material, look at writers to help tackle the liner notes and updating the art work.  Along with Rotenberry, we'll help approve the elements of putting this package together and creating a hallmark representation of one of power pop's greatest albums.
We're even pondering a vinyl pressing of "Godspeed" – and put the viability of pursuing to a PGH vote.
Rawk.  I said…RAWK!  🙂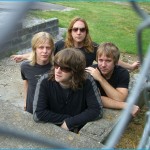 If you are not familiar with "Godspeed", here's a quick below from AMG, which gave it '4 1/2' stars.  I'll post samples of the album here soon to bring folks not familiar with the record up to speed.
From AMG:   "Taking cues primarily from early Cheap Trick  and Electric Light Orchestra, The Shazam mold hard rock that, initially, sounds out of place on the Not Lame label, which focuses entirely on power pop. However, on repeat listens it becomes obvious why this group is so often lumped in with fine pop acts; their hooks are remarkably strong and melodic. While they're clearly out of step with the times (The music here is entirely steeped in the late '70s, and while it may have sold millions then, it is unlikely to go past "cult" status now), Godspeed the Shazam is an excellent hard rock pleasure. Many of these songs sound like lost classics, especially the excellent "Super Tuesday" (an anthemic rocker on the lament of the loser of a presidential election) and "Gonna Miss Yer Train."  The Shazam also occasionally dip into glam, especially on "Sunshine Tonight" and "The Stranded Stars" and, not surprisingly, they make that work too. It all amounts to yet another gem on the Not Lame label."
Stay tuned later in October for the first steps forward….but let's hear from fans of The Shazam below.  Your thoughts?  What you'd like to see?  Questions you want to ask Hans and the band?