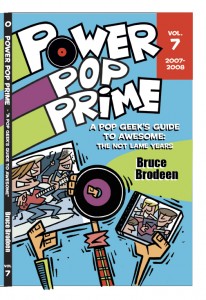 The Power Pop Prime series documents a special era in the history of the 'power pop' genre. The eight volumes in Power Pop Prime aim to create an essential reference and resource for serious power pop fans by gathering up short reviews from some of the strongest releases inside the history of power pop's largest label and online retailer, Not Lame Recordings. The Power Pop Prime series spans the entirety of Not Lame's operation, from 1995 to 2010.
During this time, Not Lame released more than 100 CDs on its label (including such pop titans as The Posies, Jellyfish, Dwight Twilley, Tommy Keene, Parthenon Huxley, Blue Ash and The Shazam) and offered more than 15,000 titles from (mostly) independent bands and labels from all over the world from its mail-order web site.
Although a cult of sorts has formed around these brief and often off-the-wall reviews, they were originally intended simply as a buyer's guide, not a source of entertainment unto themselves. But entertaining they are. And opinionated. And sometimes inscrutable. And (almost) always right about the artistic merit of the music they critiqued.
Power Pop Prime is the ideal trail map for the power pop fan seeking to discover releases and artists they've somehow missed. It is the continuation of Not Lame's mission — to guide you on your journey to find your 'next favorite new band'.
And because it's always about the music, each book in the eight volume series comes with an exclusive, limited-edition CD that compiles great songs from the time period covered in each volume.
THE FIRST BOOK IN THE SERIES HAS BEEN PUBLISHED.
"Volume 7 – 2007/2008" was published in July.  Less than 100 copies are left.  You can order one HERE
The next volume will be "Volume 1 – 1995/1996" – I will have details on this book later in October.